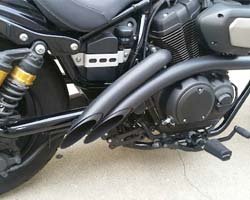 Most motorcycle owners want to modify their ride and Yamaha Bolt owners are no different. For those looking to increase the performance or sound of their bike a Yamaha Bolt exhaust is a great place to start.
Changing the exhaust system on a motorcycle allows the engine to exhaust gas at a larger volume. This allows the engine to intake a larger volume of air and run far better over stock. Most modern motorcycles are choked back by stock exhausts due to strict emissions regulations. By changing the exhaust and adding a high flow air filter element you can improve the performance and overall feel of your Yamaha Bolt.
We have selected and reviewed the best aftermarket Yamaha Bolt Exhausts currently on the market with the aim of helping you select the right product for you.
Yamaha Bolt Exhaust
When selecting an exhaust for your motorcycle it's important you understand the different types of exhausts systems available to you.
Full Exhaust Systems
Full exhaust systems replace everything on your exhaust from the cylinder back. If you are looking to increase torque or horsepower and liberate the engine a full exhaust system is for you. Often you will find that aftermarket full exhaust systems feature larger diameter bores to allow more gas through, high flow catalytic convertors to improve performance and well designed mufflers to make your Yamaha Bolt sound just like it should.
However, this can come at a cost. These systems are often more expensive and to unlock the maximum performance benefits a full exhaust system offers you need a couple of extra items:
By adding a full exhaust to your Yamaha Bolt the engine will be able to expel gas at a much faster rate. This means your engine will need more air to compensate for this and more air needs more fuel. If you keep your stock air filter your engine will still be choking and not performing optimally (similar to stock) but if you replace the air filter element/intake then you're engine will be lacking fuel and running lean.
This means the ratio of air to fuel is very high and not enough fuel will be burning, if this is left for long term it can cause premature and permanent damage to your motorcycle engine. We get around this by adding more fuel and we do this with a fuel management controller. They are simple to use and plug directly into your ECU. All of this together allows your Yamaha Bolt Exhaust to deliver great performance and run far more efficiently compared to stock.
A full exhaust system will also reduce the weight of your motorcycle too by upto 20 lbs.
Slip On Exhaust
Slip on exhausts are for people who are happy with their motorcycles performance but want to change the styling or sound of their Bolt. Slip Ons simply replace the muffler on the stock exhaust rather than the entire system. These are very simple to change and cost far less.
Slip on mufflers should have no major effect on performance and they do not require any changes to fuel injection systems or air intakes. They can be fitted to your motorcycle very simply in under 1 hour.
Vance and Hines have been producing some of the best motorcycles exhausts money can buy in the last few years and this product has not let them down.

This is the Twin Slash design common on many other types of bike. This 2-2 design replaces the full OEM exhaust system for your Yamaha Bolt with the classic looks of long and low drag pipes with wrap around headers and gives you the modern performance boost of hidden crossover pipes. If you're looking for that perfect match of style and performance you're going to be very happy with this exhaust system.

The finish on this product is first class, available in chrome and a very durable ceramic matte black (which I chose). The exhaust was very simple to fit and sounds amazing, very deep and throaty. Not too loud at all... This product is a winner.
Features
Cannot be sold or shipped to California
Designed to combine a host of features into a excellent looking and sounding exhaust system at an unbeatable value
Come with full-length heat shields over the head pipes and mufflers
Matte black ceramic, with signature Vance & Hines twin slash end treatment
Oversized twin mufflers can be refitted with optional baffle cores
---
Bassani Xhaust are world leading specialists in designing performance exhaust systems. They offer very attractively designed products at a good price.

This megaphone style slip on muffler gives the Yamaha Bolt a very aggressive feel and lovely deep throaty sound. The exhaust is very easy to fit, accepting the OEM oxygen sensors from the Yamaha Bolt exhaust and comes with a matte black heat shield that matches the headers perfectly.
Features
4" diameter slip-on mufflers feature 16-gauge steel construction and removable 2 1/4" standard flow-through baffles
---
Cobra are a well known and established motorcycle brand who have been producing some of the worlds best motorcycle parts for many years. Their Slip On Muffler range is regarded as one of the best out there and their Yamaha Bolt Slip On Muffler is no different.

Fitment was very easy to complete, you simply remove the OEM Yamaha muffler and replace it with with the Cobra. It took me less than 1 hour to do this at a very slow pace. The first thing I noticed when doing this was how much lighter the Cobra muffler was, it was very noticeable. The muffler also included baffles and there are optional billet slash cut tips available to change the style of the muffler even further.

The sound on this product was excellent. I found the deeper and louder roar of the engine to be awesome and exactly what I wanted from my motorcycle.
Features
Features advanced acoustical tuning technologies for deep rumbling sounds
4in. round muffler front expands to 4.5 diameter near the rear
Comes with a 3in. core encased in proprietary Cobra sound-tuning materials with specific acoustical dampening and thermal insulation properties; deep bass notes are made possible because of class-leading resonance absorption and prevention
Satin black muffler includes a custom heat shield to smooth transition from stock headpipes to Cobra muffler
Matte titanium finish on aluminum tip matches stock heat shields
---
The Bassani Xhaust brand have been producing aftermarket exhausts for decades and have proven to be popular choices for other motorcycle brands, however this is their first move into creating an aftermarket Yamaha Bolt exhaust.

This exhaust is a full system, meaning it replaces the complete stock Yamaha exhaust from the engine back. This means you're going to have a great performance advantage over stock because of the additional gas flow this exhaust can handle resulting in more power and a smoother ride.

They come with removable baffles which nice depending on your mood, if you are going for a nice relaxed ride you may prefer to keep these in but for those hoping for a louder more aggressive sound profile then removing these will be something you want to consider.

Fitting these pipes required a little bit of help at times. They can be slightly fiddly and with my fat fingers I needed a small amount of help from a second person but fitment to the bike was perfect. These are "bolt on" parts, no fabrication or permanent modification were needed to the bike or the exhaust. They are engineered very well.

These exhaust pipes also leave room for forward control units which was very nice as this is a mod I will be doing soon. Out of all the exhausts on review this is my favourite. The sound is nice and deep but not too loud for everyday use, the styling is excellent and the engineering and fitment was the best out of the bunch. I can't rate these high enough, if you're looking for a full Yamaha Bolt Exhaust you're not going to get better than this.
Features
Performance stepped 1 3/4" to 2" headpipes with radial rear section
---
We have already looked at one Vance and Hines exhaust above, now let's look at their slip on option for the Yamaha Bolt.

This offers a very modern looking triangle-ish muffler that slips onto the existing stock header. When I say it brings the Yamaha bolt to life I am not joking, this is a great product that offers a very aggressive deep sound from a world class company in exhausts for reasonable money...

It includes the optional quiet baffle also which is very easy to fit for those time when you don't want your ear drums blown out.
Features
Fiberglass-wrapped, perforated core
Angular, unsweeping design
Bold, back-to-basics
Slip-fit to OEM head pipe
Formed in lightweight stainless steel and coated in high temperature ceramic & Item cannot be shipped to CA
---
I had a Freedom exhaust on my last motorcycle, Freedom Exhaust are a smaller manufacturer of exhausts based in California!

The Outlaw Slip-on for the Star Bolt offers up both great sound and aggressive styling. A 4.5" single megaphone muffler body with 3 unique billet end tip options to choose from including black, chrome and black on chrome. The exhaust is easy to fit as you would expect from a slip-on system.

Quality wise this is as good as you will get from any company and I have always found that customer support has been brilliant!
Features
Step performance system for anti-reversion, full range torque and optimal horsepower
21/2" o.D. Full 220 one-piece 16 gauge heavy duty heat shields
O2 ports & plugs provided for early models Complete with mounting hardware and brackets Fits forward & mid controls Hot Rod sound
Country of Origin : United States
---
This exhaust from Danmoto has a great old school vibe with some decent features. It's finished in matte black with a contract cut chrome end cap which is very attractive. The product fit was very good, it features everything you need including claps and bracket which is handy and it was very easy to put on.

The big positive for this product is the weight, the entire muffler (with removable baffle) weighs about 6lbs. It's well constructed too, featuring stainless steel and a stepped header design to help cut down weight.

Noise was kind of quiet with the baffle in too at cruising rev range but roared when you opened up the throttle, I really liked this. Overall it's a great choice for an exhaust!
Features
Slip on Exhaust system for best performance
Stepped Mid Pipe
Upswept Angle for Aggressive look
Contrast Cut Billet Outlet Tip
Complete Made of High Grade 304 Stainless Steel
---
If you want performance for a budget, this is a great option!

This exhaust slips right onto the stock header pipe in just minutes accepting the OEM oxygen sensor with no issues and providing the option of running a baffle or not. With a tuner such as the one linked above and a bit of patience you can see horsepower gains of 20% very comfortably without stressing your engine too much.

The finish is also very nice, the full coverage heat shield matches the header to perfection. My mechanic was also shocked by how little I paid for these and when I asked if he thought they were good he gave me two thumbs up!
Features
Deep, roaring sound
Muffler and heat shield features a black ceramic coat to match the finish of the stock headpipes
Removable perforated-core baffle
Fit the stock headpipe and stock O2 sensor
With air intake, fuel management and tuning achieve over 20% hp gains
---
Radiant Cycles offer very low cost custom solutions for many motorcycles out there, including this simple and cheap slip on exhaust for your Yamaha Bolt.

What you get is a very simple product that slips straight onto the stock pipes of the motorcycle. If you like noise you're in luck because this has a lot of it with no internal baffles at all... Which was kind of the problem I had with the product. It's just too loud and for long rides it kind of got on my nerves (even with earplugs in).

I had this product fitted to my bike for 2 weeks and have no complaints elsewhere. It's a very cheap end can, it does the job if you're on a budget and fitment is very easy... But for me the noise was a problem.
Features
Fits 2014 - 2020 Yamaha BOLT XVS95 XVS950 R
Loud and Alive: Stay safe while riding your motorcycle with a short muffler. Notify vehicles nearby.
Simple Installation: Remove your stock muffler and slip this new pipe in its place. Tighten clamp.
High Quality Finish: Chrome plated to provide an excellent finish that matches the factory parts.
60 Day Warranty: Radiant Cycles Shorty GP Exhausts come with a 60 day, 100% satisfaction guarantee.
---
Conclusions
The Yamaha Bolt is a fantastic bike as standard but if you have felt there is more performance to be had out of it or you just want to start making the motorcycle feel like your own then a new exhaust for your Yamaha Bolt is the perfect way to start going down that journey.
All the products reviewed in this post were tested for 2-3 weeks unless stated otherwise. The "best" one is a very subjective thing to point out as my needs and your needs are probably different. In my opinion the best available are as follows:
Best Yamaha Bolt Exhaust System
The Vance and Hines Twin Slash is in my opinion the best option for those looking for a full exhaust system for the best performance. The styling and ease of use was unbeatable in my opinion.
I've installed a few V&H exhausts over the years for friends and family, they cannot be beaten for value, ease of use and features. They come with everything you need out the box including optional quiet baffles. They love their customers.
Best Yamaha Bolt Slip On Exhaust
The Cobra 4″ slip ons were my favourite!
They offer amazing sound and good performance boost right out of the box with no tuning, this is exactly what you want from a slip on exhaust.
Keep in mind, this may not be the case for you!
There are lots of factors that go into picking the right exhaust and truth be told none of the exhausts reviewed were bad. They all have different features, sounds and price points.
Pick what works for you and you will be proud to have on your bike!
FAQ
Why do motorcycle manufacturers fit bad exhausts as standard?
Motorcycle engines are very small and light. They lack a lot of the same technology that you see in car engines like turbo chargers which allow engines to use less fuel for more power, because of this states like California and the EU have introduced very strict exhaust emissions laws which means motorcycle manufacturers have to fit exhausts which help achieve this.
What other mods would look good on my Yamaha Bolt?
Bar end mirrors look pretty good on any motorcycle in my opinion.
How much is a Yamaha Bolt?
The new price of the Yamaha Bolt is $8000. This does not include in extras that you may want or on the road costs and taxes. These additional fees depend on your state.
What kind of oil is used for the Yamaha Bolt?
You need 4.30 quarts of YamaLube 20W-50 (10W50 for colder environments).
Do I need a motorcycle jack to change my Yamaha Bolt Exhaust?
A motorcycle jack would make it easier to reach some bolts, but it's not needed. You can change exhaust with the motorcycle on it's side stand.
How do I clean exhaust pipes on motorcycle?
The best way I have found is to first make sure your engine/exhaust is cool to touch. Then use standard bike cleaning solution and a cleaning mitt to wipe down any dirt off your exhaust. Next you need a microfibre towel to dry your exhaust to prevent water spots. Avoid using a pressure washer and make sure you don't allow water to get inside your exhaust muffler. Once the heat shield is dry you can fire up your bike to evaporate any water that got between the shield and the actual exhaust.