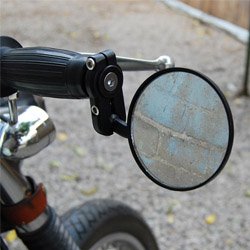 Bar End Mirrors will look great on your motorcycle!
It does not matter what you ride, bar end mirrors add great style and will keep you safe on the road. Unlike regular motorcycle rear view mirrors these offer a wider point of view allowing you to see more of the road behind you and avoid dangers.
Bar End Mirrors
Bar end mirrors should fit 99% of motorcycles that have hollow handlebars. You should check that your bike has these before ordering your mirrors. Most motorcycles will have bar ends which should be removed when you fit your brand new bar end mirrors. Some motorcycles will have grips which cover the ends of your handlebars. These grips can be replaced with other motorcycle grips or you can simply cut the end off them with a sharp blade.
If you have other accessories such as hand guards fitting bar end mirrors might not be possible. When buying bar end mirrors it's also worth measuring the diameter of your handlebar to make sure the mirrors are the correct size, although most of the time they are universal and this isn't an issue.
---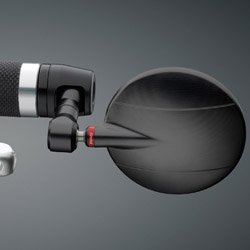 Rizoma are a brand that people assign quality to, they manufacture some of the most brilliant custom motorcycle parts in existence.
This mirror (part number BS285B with mounting adaptor LP200B) will fit any handlebar with an internal diameter from 13mm to 21mm so it should fit basically all handlebars. The mirror itself is 80mm in width. The construction of this bar end mirror is second to none. The body and all metal parts are built from Aluminium billet, anodised in black. The glass itself is also excellent quality.
These are an excellent and stylish rear view mirror, please remember these are sold as single units. Order two for a pair!
Pros
Billet construction
Amazing quality
Simple to fit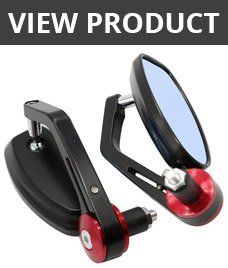 ViZe might not be a brand you've heard of, but if you're looking for high quality and low cost you might want to get used to the name.
These side bar end mirrors are excellent value, if you're looking for the best product for the money these will not be beaten. Construction was high quality aluminium, fitments were very nice, they were simple to install as you would expect and they looked excellent on the bike. They were very simple to adjust with a nice and solid ball mounting system, these mirrors had the features and feel of a product much more expensive.
The only negative point I can come up with is some of the mounting bolts did work a bit loose, but with a dab of loctite they were fine. These mirrors come in multiple colors if red is not your style.
Pros
Very good quality for the money
Nice size
Color options
Cons
Bolts can work loose, use loctite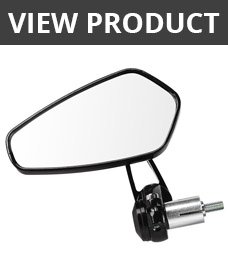 LeaningTech are another fledgling budget brand.
These bar end mirrors fit 22mm (7/8″) handlebars and are pretty much a universal fitment. They are made from billet aluminium, CNC machined to a decent standard and anodised in gloss black.
If I was being honest the product I had was not finished perfectly, this is a budget product and gloss black shows every imperfection. It's a shame as the design was very nice, the mounting options were brilliant. They allowed for a great range of adjustment.
The mirrors glass itself was tinted slightly which is excellent for riding at sunrise and sunset. It really helps to stop glare from blinding you.
These side rear view mirrors would look excellent on a streetfighter, I just wish the finish was a little better.
Pros
Functional
Nice fitting system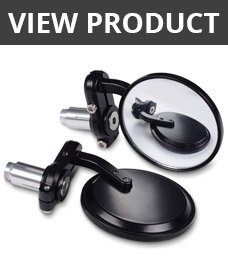 If you're looking for the lowest cost bar end mirrors that aren't total crap, this product from Kawell will suit you well.
These mirrors do feel cheap, because they are. But they are fully functional, they will do the job and don't look bad. They are made from Aluminium, offer a classic look with great visibility thanks to the convex glass. The mirror is 3.2″ in diameter, which is a nice size.
They feature a vibration resistant design so your mirrors are always clear and multiple mounting options, they can bolt right on to your 7/8″ (22mm) handlebars directly or they fit like standard bar end mirrors with the metal insert plug.
If you do use the metal plug, be careful. It can only be fitted once because of the sacrificial design that bends the metal permanently.
Other than that, this is an excellent product for the cash.
Pros
Convex mirror so you see a lot more around you
Multiple mounting options
Cons
Fittings are one time use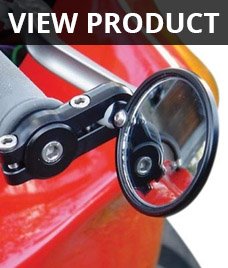 CRG are well known for making excellent custom parts and this is no exception to that.
The CRG Blindsight bar end mirror is a great mirror for those that are looking for something that's a bit more discreet. Thanks to it's small 2″ diameter the impact of the mirror is a lot more subtle than some of the others on review.
The glass however is convex, allowing you to see everything you need to despite it's small size.
This mirror comes as a clip on design as standard, if you want a true bar end mirror mount you will need to order this mounting option separately which is a bit of a pain.
The mirror itself is built very well from 6061-T billet Aluminium and stainless steel hardware. This allowed us to tighten the test unit a lot without any issues.
Pros
Billet Aluminium construction
Clip on mounting option
Cons
Does not come with adaptor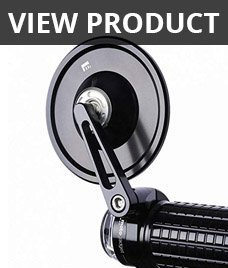 Motorgadget offer some of the most innovative products in the motorcycle industry and this bar end mirror is no different. Featuring a glassless design you not only have a well made, beautiful product. It's also unbreakable.
Instead of glass what you're actually looking at is polished aluminium with a protective film mounted on it directly. This allows the mirror to be extremely light and thin. This is a piece of engineering art.
The quality of this mirror is second to none, the unit is absolutely beautiful. all the hardware is stainless steel meaning nothing will rust in bad weather, and the mirror itself is built in billet aluminium CNC machined to perfection.
This is our premium pick, this is a superb product.
Pros
Brilliant design
Fits 7/8″ or 1″ handlebars
Glassless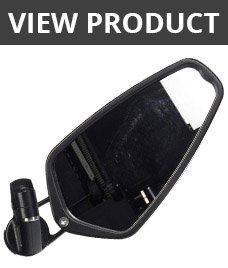 Keeping with the exceptional quality of all CRG's products, the Arrow Black Bar End Mirror is what you can expect. A well rounded beautiful and yet functional product.
This mirror has great style, it would look great on sportsbikes and streetfighters alike. The mirror itself is made from CNC cut billet aluminium which gives great styling.
The view of the road behind you is also good.
The only downside of this product is that the mounting option for the bar end mirror is sold separately which is annoying, it's available here.
Pros
Well made
Solid mounting options
Cons
Mounting insert sold separate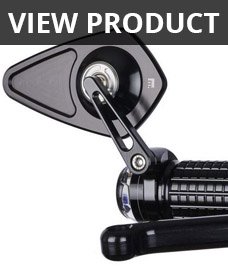 This is the second mirror on review from Motogadget so I won't waste my time telling you how good the brand is again.
The mirror is much the same, just an alternative style to the other model. Both feature polished aluminium that replaces glass. This allows the bar end mirror (which fits both 7/8″ and 1″ bars) to be machined very thinly for weight saving and style.
The convex surface of the mirror allows you to see a huge area behind you, making it very safe. The mounting options allow the user to fit them above or below the bars.
These are the best made mirrors on review today, they are innovative and works of engineering art.
Pros
Fantastic design
Multiple mounting options
Unbreakable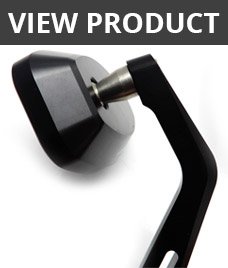 Kemimoto are another great budget brand we are featuring today. Their universal bar end mirrors are surprisingly nice for their price point and offer a more "rounded" arrow style that others mirrors don't really have.
The mirror itself has a slight blue tint to remove glare which works well, construction is billet aluminium and they are very solid and robust. I can't see these breaking any time soon. All hardware was stainless steel which is nice also!
The only downside I have with these mirrors is they are a little overbuilt, they are a big big and bulky. If you want or like that style they are for you, perhaps not for me though.
The ball socket mount for the mirror to allow you to adjust it was a bit stiff but this is a good thing, it mean it won't move at high speed.
This is a very good bar end mirror.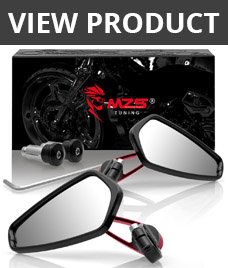 MZS are responsible for our final product review on this article. Their universal bar end mirror is another great value product with lovely design and features for relatively little money. These would look great on cruisers or Harley-Davidsons.
These mirrors are designed for 7/8″ bars. They are CNC machines form billet aluminium with a red and black anodized finish. They feature an acrylic mirror meaning they are tough and durable which is a nice feature.
These mirrors are a little tricky to install, their insert works a little different to the other mirrors we reviewed but they came with details instructions. You may need an extra pair of hands to hold things while you tighten them but once fitted they are solid.
These mirrors are fantastic options for those looking for bar end mirrors. They can be mounted above or below the bar.
Pros
Great mounting options
Great design
Universal
Cons
Tricky to install but really solid when you've done it
---
Conclusion
Inclusion of our bar end mirror reviews, the three (well, four) products I recommend are:
First off let's get this straight. The best mirrors for your motorcycles are ones that:
Fit your bike.
Look good on your bike.
Let you see behind you clearly.
None of the mirrors on test in this article were bad, they all fitted up well. A couple need a little thread lock here and there but that's not unusual for motorcycle parts and it shouldn't put you off. They were all functional and made well.
Find the style of bar end mirror that looks best on your motorcycle. What I picked as "best" may not be your choice and that's fine, if all our bikes were the same it would be a boring world to be part of.
I hope my reviews helped, if you have any opinions on these products leave a comment below and let me know.
How do I fit bar end mirrors?
Bar end mirrors are very easy to fit and they usually only require basic hand tools.
You will need:
A spanner/adjustable wrench.
An allen key.
A knife.
Long nosed pliers.
Your new mirrors.
1. Make sure your bike is secure
You're going to be moving the handlebars around and walking around your motorcycle, if you have a motorcycle stand to keep your bike secure please use it. You will want to make sure you have lots of area to work in to avoid any accidental damage. You may also wish to lay a towel over your handlebars and gas tank to avoid any accidents.
2. Remove the old mirrors
Once this is done and you have a good area to work in, you should remove the old mirrors. Typically motorcycle mirrors mount onto the brake and clutch assembly and have a locking collar which needs to be undone with a spanner.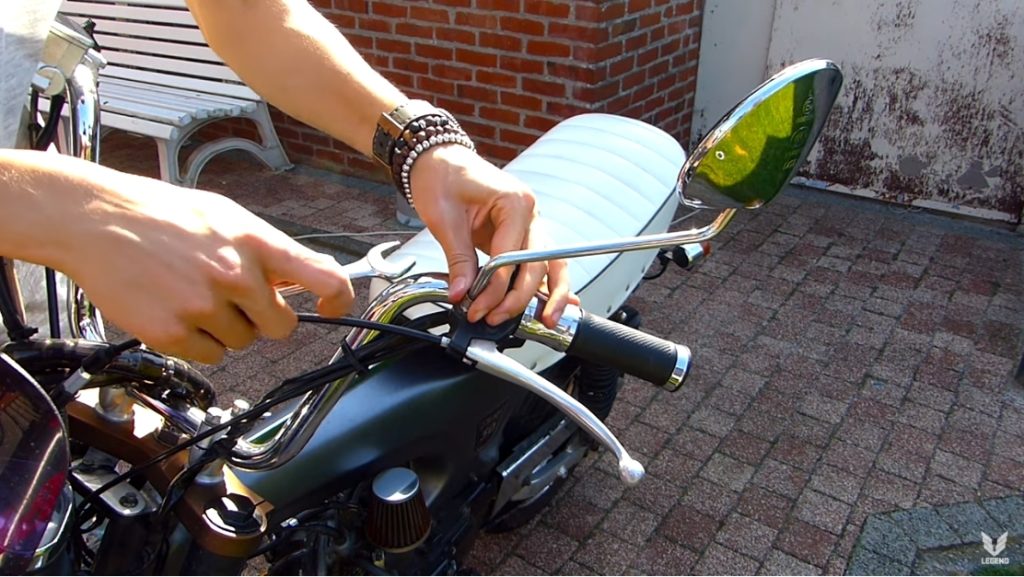 You have have a rubber sleeve covering this, just roll it up so you can access the nut.
3. Getting access to the handlebar ends
Rear view side mirrors usually attach with a plug that sits inside the handlebar and the bar end mirror will attach to this plug. Therefore we need access to the bar end.
If your motorcycle is fitted with bar ends already then all you need to do is simply remove these. If you have rubber grips covering the ends you will need to use a knife and cut them.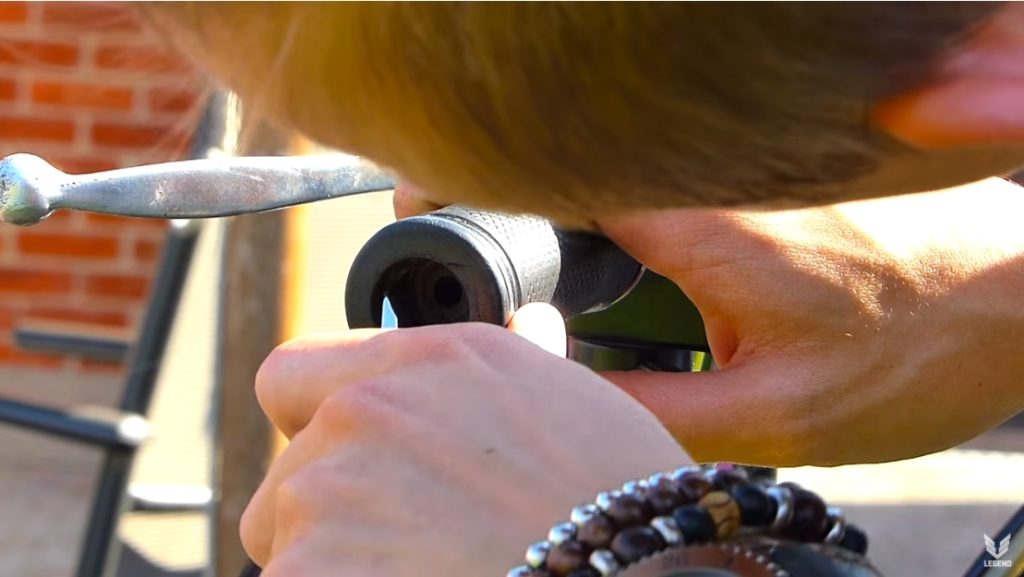 Feel your way around the internal area of the handlebar and cut slowly, you will need a sharp knife. When you have cut all the way round you can use some long nose pliers to remove the rubber. Repeat for both sides.
If you have bar ends already installed it's possible there is already a metal plug in the end of your bar. You will need to remove this, you can use the bolt that attached your bar end to screw into this plug and use grips or pliers to pull them out.
4. Fit your mirrors
Now you have access to your motorcycle bar ends you can fit your mirrors. It's best that you read the instructions that came with your product and follow them closely but generally all that is involved is pushing the plug assembly in and tightening up the bolt.
Make sure your mirrors are firmly attached, you don't want them to fall off. Once everything is solid you can sit on your bike, position them as necessary so you can see everything behind you and you're done!
Fitting bar end mirrors is a very simple job which anyone can do.
Video guide to fitting bar end mirrors:
Frequently Asked Questions
Are bar end mirrors better?
It obviously depends on personal preference but for my motorcycle (Ducati Monster) I much prefer them! Bar end mirrors stick out much further than the OEM rear view mirrors giving me a much wider view of the road. The only downside I find is I do tend to knock them a bit when pulling my bike in and out of the garage but that's just me being clumsy.
Are bar end mirrors legal?
The legality of these mirrors will depend on your local law, where I am I have no issues. Laws differ from country to country and even state to state. I would ask your local police department if you have doubts.
How do bar end mirrors mount?
Bar end mirrors typically mount with a metal plug that sits inside your handlebar. As you tighten the bolt for your mirrors the plug will expand and hold the bar end mirrors in through friction. They are very secure.
Are bar end mirrors safe?
Yes! I personally find them much safer than standard OEM mirrors that fit on the bar. They have a much wider view so you can see a lot more behind you.
Are bar end mirrors universal?
Most of them are, due to the way they mount through the plug they can fit a wide range of handlebar sizes. Although it's best you check before you order, leave a comment below if you need any help.