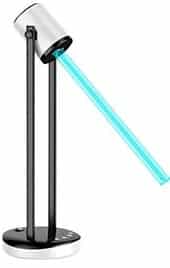 Coronavirus is here and currently as I write this it's spread to every continent the world and every state in the US. This is very concerning, but what can we do to stay safe? One thing that studies have shown is like many viruses, coronavirus can be killed by UV light so to follow on from my best coronavirus masks this post will look at the best coronavirus UV light.
Readers should head to the CDC website for accurate and up to date information.
Coronavirus Facts So Far:
The virus (named 2019-nCoV) originated from Wuhan in people who visited a seafood market, it's thought the virus originated from a snake.
There has been over 220,000 cases recorded so far and over 9000 deaths world wide.
Many countries and regions are in lock down, travel has been halted and borders shut.
China still has the most number of cases but lately seem to have got on top of the infection through lockdowns and forced isolation.
Dr. Eric Feigl-Ding says the coronavirus has a R0 value of 3.8, making it more contagious than a cold virus.
The WHO declared COVID-19 as a pandemic in March, this a serious health hazard to the region and the world at large. The major concerns most health professionals have right now is capacity of health care systems within countries and there are reports in Italy of doctors being forced to choose who they treat and who they leave to die due to a lack of ventilators.
Important note: This article is not designed to be used as health advice, seek out your own government's advice. For those in America please read the CDC website set up to help with coronavirus and for those in the UK check out Gov.uk for the latest advice. I am a blogger, not a health professional.
How does a Coronavirus UV Light kill the virus?
Scientists have been using UV light to kill bacteria, viruses and other single cell organisms like algae for decades. It's a process called "Ultraviolet germicidal irradiation", it works by breaking down the molecular bonds that hold their DNA together which prevents the virus from multiplying and breaking their life cycle. Instead of multiplying as normal they are unable to do this and simply die at the end of their life. Coronavirus can be controlled in the exact same way.
There are two methods to control coronavirus with UV light at home:
With an air purifier which incorporates a UV light to kill and trap airborne viruses
With a surface cleaning UV light that shines UV light onto walls and other surfaces to kill virus cells there
Many industries use UV light to sterilize, some of those include medical, food and people even run UV sterilizers on their pond to clear the water of algae. These are very simple and widely available products.
Coronavirus UV Light
No products found.
Other Protections Against Coronavirus
Keeping yourself protected during an outbreak should be your number 1 priority. If you do not come into contact with the virus then you will not get infected, this is a key point which you must remember. Some tips to avoid contact are:
Regularly wash your hands and use sanitizer
Avoid contact with people showing symptoms
Wear a mask
There are other products which I believe you should stock up on to give you the best chance fighting Coronavirus, some other things you may want to consider are below.
Virus Masks
A good quality virus mask is the first line of defence against coronavirus. You have probably seen these in use during flu season in Asian countries already, the reason is they work… Filtering the air you breath will lower your risk. I have already written a post about coronavirus masks here so I won't go into much detail.
Stockpiling Essentials
If things do spread and the general population gets a bit frantic then things will quickly sell out locally, it's best to have this stuff on hand already before things get to that point to ensure you and your family are protected. I would advise on stocking up on the following items:
Disinfectants and cleaning supplies
Batteries
Water (bottled)
Medicine
Food
Lowering your exposure to the virus is the best form of defence. If you can get yourself to a point where there is no need to leave your home in the event of an outbreak and self quarantine then you shouldn't have the opportunity to come in contact with the virus.
Hand Sanitizers
I cannot stress the use of this enough! Become obsessed with washing your hands. Avoid contact with animals or surfaces other people touch (like door handles) and stop touching your eyes, ears or mouth. Washing your hands with regular soap and water is fine but having a gel hand sanitizer on hand too with a high alcohol content is recommended for times when you're not near a sink. Use it often and liberally. Set a reminder on your phone for every hour and stick to it.
You also want to make sure you use hand sanitizer which is over 70% alcohol to be effective.
I would even go as far wearing gloves if the risk is high or you know there are cases of coronavirus local to you.
Clothing and Boot Covers
If you are forced to leave your home during an outbreak (avoid at all costs) then your priority should be to keep the virus outside your home when you return. This can be done by using:
Decorating cover all
Disposable shoe covers
I would also be sure to use a full face mask and ear protection (covered in the next point). Keep your shoes outside your home when you return, do not enter the home wearing anything that you were wearing for your trip and immediately take a long hot shower using lots of soaps and cleaning agents. Do not walk in and hug your wife or kids like an idiot either…
Eye and Ear Protection
The virus can spread through contact with the eye, ear and mouth. It's important that you protect yourself properly from all three entry points as they are equally vulnerable. For eye and mouth protection a full face mask is perfect, for ear protection use cotton buds or ear plugs covered in tea tree oil which is a natural virus killer which won't harm your skin.
Corona Virus UV FAQ
Can UV light kill viruses?
Yes, Scientists have known about this for decades. UV light which has wavelengths between 200 and 400 nanometres (nm) breaks the bonds within the cells DNA which leaves the virus unable to replicate and reproduce stopping the lifecycle of the virus. UV light is also effective against bacteria, fungus, mould and algae.
How long does it take for a Coronavirus UV Light to kill the virus?
The inverse square law applies to germicidal ultraviolet as it does to light: the killing power decreases as the distance from the lamps increases. The coronavirus will be killed in ten seconds at a distance of six inches from the lamp in an Ultraviolet Germicidal product.
Is UV light harmful to humans?
We naturally come in contact with UV light daily through the sun, it's what gives us a tan in summer or while on holiday so long term exposure can give us sun burns. It can also harm your eyes if you were to stare into the bulb but for normal use of the products listed above you should have no real concerns.
How effective is UV sterilization?
UV sterilization is extremely effective. It's a process that is widely used in many industries from food to water processing and purification.
Does a UV sterilizer kill airborne coronavirus?
Yes, it doesn't matter if it's in the air or on a surface the effect is the same. If the virus is exposed to UV light it will die.
Last update on 2021-05-23 / Affiliate links / Images from Amazon Product Advertising API