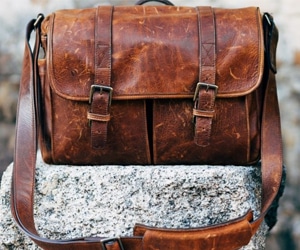 Third wedding anniversary gifts are traditionally supposed to be leather, but finding the perfect leather gifts for her can be a challenge. I have put together a list of possible options that stay true to tradition, while also providing some options that are a little unique.
Leather gifts are tradition as after 3 years of marriage your relationship should be strong and durable. Luckily Leather is a fantastic material and there are many great options for gifts out there.
The modern tradition has replaced leather gifts with glass or crystal gifts, but for this post we are sticking with the old school option. I'd like to take this opportunity to wish you the best and congratulations on your third wedding anniversary!
Leather 3rd Wedding Anniversary Gifts
This is a classic gift, something both of you can enjoy in your home together. A leather picture frame (or frames) can be a great gift idea help you remember the good times when things get tough. A memory of why you love each other or something to remember the younger years as you get older.
---
Purses can make a great gift as it will remind your wife of you every time she goes out. Be with her in spirit as she buys lunch with her boyfriend or picks up the groceries. Purses are also just awesome gifts on their own.
---
Belts are useful, we all need them. This Tory Burch belt will make an amazing leather gift for her! It's from a known brand, looks amazing and should last a life time of use.
---
Much like the picture frame, a leather photo album with all of your best memories of your first 3 years married together is a great gift with a huge personal touch. This could be something you put together with each other over a weekend, it can make a great lockdown project.
---
Leather is hardwearing, soft and very protective. It makes a great material to protect your phone so a leather phone case can make a great gift. Many companies offer
personalized phone cases
that look amazing, you may want to research these.
---
Leather jackets are a fashion classic which goes together with just about any outfit. They are lovely and warm, soft, hard wearing and water proof. They are perfect for spring and fall so they can be used for most of the year. They make a great gift.
---
Ladies love Pandora, if your wife already has some Pandora products this bracelet can expand her collection and help remind her of you. These make amazing gifts!
---
If your wife travels a lot for work a washbag can be your way of reminding her what she has at home and being with her in spirit. This washbag carries everything she could need and is fantastic quality.
---
With much of the world now working from home or remotely, you could upgrade your wifes old ikea office chair with something a bit more comfortable. Leather chairs are a great gift and come in many styles, this is just one option of course.
---
Now that Covid-19 is something we have to live with wearing
masks
has become important to stay safe. Buying your wife a lovely face mask to protect her from the virus could be a wonderful gift idea!
---
What woman doesn't have enough shoes? Leather shoes make a fantastic third wedding anniversary gift but it's important you know what style she likes. Take note of what she wears and buy something similar, or just take her shopping and let her pick herself.
---
Last update on 2021-05-23 / Affiliate links / Images from Amazon Product Advertising API