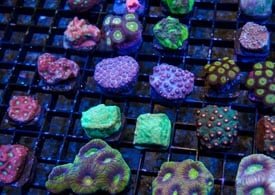 Eventually all reef aquarium enthusiasts will need a frag rack, as corals grow and need to be cut back many of us can't face throwing these cuttings in the trash and why would we? Our coral isn't cheap after all and many rare specimens can sell for big money. So it makes sense that all reef keepers have a frag rack available.
Frags don't need dedicated systems either, a lot of us just keep magnetic frag racks in our display tanks where coral can grow before we take it to the local fish store for trade or even dedicate small spaces in our sump with small lights (such as the AI Prime HD) and grow corals down there. Coral fragging does not need to be overly complicated or expensive.
So if you're at the point where you need to frag coral and you're struggling to keep them on your sandbed as your fish or clean up crew bury your frags in sand, get a frag rack. There are also plenty of guides online to making your own, they are pretty simple after all but they are also inexpensive… how much is your time worth?
Frag Rack
A good frag rack will depend on your needs, they are available in many different shapes and sizes. Some are magnetic, use suction cups, hook to the rim of your tank or even are designed to look like live rock so they blend into your aquarium. You want to find something that suits your goals, if you are only doing this occasionally a magnetic frag rack might be best but if you want to dedicate space to this in a sump or separate system a stand alone frag rack will be what you need.
---
---
---
---
---
---
---
---
---
---
---
---
---
---
---
---
---
---
Frag Rack Conclusion
You really won't go wrong with whatever you pick, frag racks are very simple as you can see. They just need some method to stay steady in your aquarium and holes for frag plugs.
I will say as a general rule I try to stay away from frag racks with suckers that attach to glass. Unless the glass is perfectly clean they will come loose and your frags will be in your anemones and dead by the time you get home from work, I speak from experience unfortunately… Magnetic frag racks work best in your display aquarium.
If you are going to dedicate sump space or plumb in a dedicated frag tank then a standalone unit like the innovative marine frag rack will be best. These are extendable to your needs over time as you grow more and more coral.
How to make frag rack?
If you want to make your own frag rack the easiest method is to use egg crate lighting diffuser. You can cut it to size and add feet/legs for the bottom of your aquarium or find a way to attach suction cups to your tank.
How do I grow coral frags faster?
To grow coral faster you need good lighting, food like reef roids and stable parameters. A good aquarium salt is also needed that provides enough minerals like Calcium, Magnesium and Alkalinity. Consistency is key in this hobby, wild swings in tank conditions can slow down or stop growth completely. Low phosphates and high pH will also help SPS and LPS corals grow quickly as these parameters can slowdown calcification of skeletons if left unchecked.
People also say keep your hands out of the aquarium, this can impact growth! The natural oils and pollutants on your hands from daily life may not damage us, but ultra sensitive coral can be damaged by them.