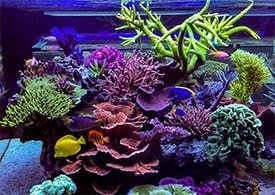 If you want to set up and run a successful reef aquarium, you're going to need some pretty good aquarium salt.
Aquarium salt is manufactured by all sorts of brands and the large amount of choices out there can be pretty overwhelming for new people to the hobby. Luckily, once you understand what you're looking for it gets fairly simple. Aquarium salt contains all the minerals and nutrients that our fish, coral and invertebrates need to thrive. As you progress through the hobby and keep more difficult animals then more attention needs to be applied to important aquarium parameters.
There are 4 mains types of marine aquarium and their needs and requirements are a bit different:
Fish Only Aquarium – Any marine salt will be fine for this type of aquarium as demands and needs from fish can be supplied through food.
Soft Coral Reef – Any decent reef salt will be fine, demands from soft coral are low.
Mixed Reef – A good salt is required with good parameters. Red Sea Coral Pro is a good choice.
SPS Reef – Demands on Calcium, Magnesium and Alkalinity will be high. Dosing will be required and a good salt that is stable from batch to batch is needed.
The truth is there is not a massive amount of difference between different brands of aquarium salts. It's largely the same chemicals in slightly different ratios packaged up. Many successful reef aquariums have been run with aquarium salts we selected for review today. The trick that all aquarists need to listen to is pick your brand and stick to it. Consistency is key, find a salt that is available to you anytime you need it and fits your budget, all of the reef salts below will meet those standards.
Aquarium Salt
---
---
---
---
---
---
---
---
---
Conclusion
The best aquarium salt will depend on your budget and what is available to you, but you will honestly not go wrong with any choice above.
Any reed aquarist who has been in the hobby for a while will tell you that many years ago, salt has some problems:
It was hard to dissolve
Minerals deposited out
It clumped together
Parameters varied from batch to batch
Over the last 5-10 years, these issues have been largely fixed. Modern salt is easy and simple to use, you don't really have to worry about it anymore. This is why I'm not going to recommend a single aquarium salt and declare it the best, they are largely all much the same and with a few exceptions all stay around the same parameters as natural sea water.
What aquarium salt do I use?
I run two systems, a fish only aquarium that uses Instant Ocean and a mixed reef that uses Red Sea Coral Pro. I have used many salts over the years but I have picked these as my local fish store stocks them all the time.
How much aquarium salt per gallon do I need?
For marine aquariums salt levels between 33pt and 35pt are required and 1pt = 1 gram of salt in 1 litre of water.
To convert this to US gallons, you need 133 grams of salt per 1 US gallon (3.8 liters).