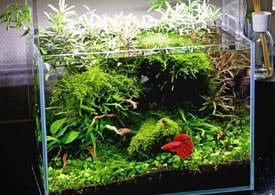 When setting up a Betta aquarium, one of the things you need to think about is what is the best substrate for betta. In this guide I will be covering all of your available options and showing you what you should be looking for when selecting substrate for betta fish.
Substrate can be sand, gravel or soil. It's used on the bottom of your aquarium. It serves multiple purposes including:
Aesthetics
Water buffering
Nutrients for plants
Each type of substrate will have it's quirks, so you need to know what you want to achieve with your aquarium before making your choice.
If you are looking for aesthetics, you can almost pick anything. Any gravel or sand will be fine for a simple betta aquarium.
If you are looking for water buffering your choices are a calcium based substrate to help raise your hardness (for soft water) and a soil that lowers your hardness (for hard water). Most people won't have to worry about this, it depends on your water parameters out of the tap. If you're in doubt ask your local fish shop on what they do, they will have similar water to you and follow their advice.
Calcium based substrates include crushed coral and aragonite. These buffer the water by slowly dissolving over time and raising the pH/hardness of your water. You never need much, in my aquariums I run a soil base and have a 1″ pile of crushed coral in the corner. Planted tank substrates and aquasoil lower your pH and hardness through tannins they release in the water, if you have hard water out of the tap this can be beneficial if keeping soft water species like Betta fish or rams/discus.
If you want a heavily planted aquarium like in the upper right, you want to pick a good quality aquasoil or planted tank substrate for your betta. These products are designed to help provide nutrients to the roots of plants and promote strong healthy growth. If you are looking for simple plants to keep you don't need this soil, you can use a product like root tabs instead. These are slow release fertilizers, similar to those used in hanging baskets. They work but not as well.
Once you have decided what direction you want to go in and what you're looking for, let's look at some options.
Best Substrate for Betta
Conclusion
There are no massive mistakes you can choose when picking the best substrate for betta fish. Betta fish are quite hardy and will quickly adapt to most environments.
The criteria for picking a substrate really comes down to what else you wish to do with the aquarium, regarding aquascaping and plants. Many betta breeders will run their aquarium with a bare bottom and won't even have a substrate.
How much substrate will I need?
It depends, if you're going to be using aquasoil you want to have it at least 2″ deep for plant roots. If you want to just use sand or gravel 1″ deep is fine so you will need half as much…
For an average 5-10 gallon betta tank, I would get 15lbs of aquasoil and 10lbs of gravel. This should be enough to cover the bottom of your aquarium fairly easily.
Other Posts You May Like: