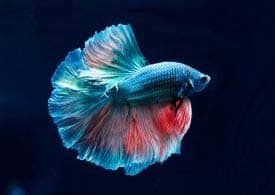 Betta fish have a reputation of being hardy, colorful fish that you can simply place in an unfiltered and unheated bowl on a desk or window ledge. To really care for the animal we need to provide for its needs and one of the things people need to supply their fish with is heat, through an aquarium heater, but what do you need to look for when selecting the best betta heater?
Best Betta Heater
Most tropical aquarium fish you see in stores need heated aquariums and be kept at a temperature of 75f-86f depending on species. Betta fish are one of those species that come from very hot water in South East Asia, often heavily planted and low in pH. This is a fairly easy and cheap environment to recreate, but if we are going to do that we need the best betta heater.
Betta heaters are no different to regular aquarium heaters, but because Bettas are often kept in small 1-3 gallon aquariums putting a regular 25w aquarium heater can look unsightly and take up a lot of room. Regular aquarium heaters are often overpowered for these small aquariums also which can be dangerous to the fish if the heater malfunctions and sticks on.
Pick the right size heater for your aquarium, you want about 2-3 watts of heat per gallon of water. If you aquarium is 2 gallons, look for a 5w-10w heater. If your aquarium is 10 gallons, you need a 20w-30w heater. Watts is how much energy your heater uses, the higher the watts the more power it has.
Conclusion
Betta fish are easy to care for and very affordable pets, supplying them with what they need is simple and affordable. Do the right thing and get your betta fish a heater.
There is no best betta fish heater, find one that is the correct size for your aquarium and fits your form factor. The smaller heaters are very easy to use and require no adjustment, they are also easy to hide behind plants and aquascape materials. The larger heaters tend to be adjustable but you don't really need this for Betta fish, they will adapt to most temperatures over 75f fairly easily.
My betta is sick, what can I do?
It depends what is wrong with it, if it has a disease treat it with the right medication but an old school trick for sick fish is aquarium salt. If you add 3 grams per gallon to the water for short term (2 weeks max) it can help kill any parasites or fungus your fish is likely to have. Other good cures that fish keepers should have on hand is API General Cure. This is an all-in-one remedy for most parasite issues and often works better than salt.
The key to fixing sick fish is to work out what is wrong with them first.
How long do betta fish live?
A healthy and happy betta fish should live 2-3 years, with some living as long as 5 years.
How often should I feed my betta fish?
Lots of small feedings is best for fish, in a perfect work 3-4 small (single flake) feedings is best but if you can only feed once per day that's fine too. Pay attention to the fish, if the stomach is looking full maybe it's best to skip a meal, if it's thin feed more.
How long can a betta go without food?
A healthy fish can go a couple of weeks without food but it's not advised. If you're going on holiday or vacation show a neighbour how to feed your fish and ask them to help out!
Where do betta fish come from?
South East Asia, Betta fish in the wild are very common in rice paddies and ponds but aquarium hobbyists in Asia have bred them into the colourful fish we see today with massive fins. Asian rice farmers would often breed these fish for fighting purposes, hence their common name of the siamese fighting fish.
What temperature should I keep my betta fish at?
75f to 80f is fine.