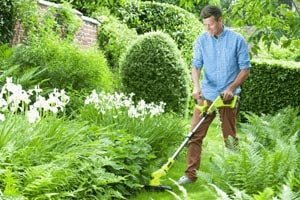 Ryobi are the world's biggest manufacturer of power tools and outdoor tools. When you are looking for a new tool for your job or home Ryobi are a great place to start and their line of Ryobi weed eater is no different.
Today we are looking at the range Ryobi weed eaters and strimmers, we will be taking a look at what they offer, how they perform and which ones you will benefit from the most. Ryobi's line of string trimmers gives you a huge selection to suit all jobs and budgets.
Ryobi are famous for the Ryobi One+ battery system which allows owners to benefit from owning 1 battery which fits all their tools. Be sure to check out of our reviews of Ryobi batteries when ordering any Ryobi products. This is something Ryobi are famous for and a reason why many people purchase more than one Ryobi tool.
Ryobi Weed Eater
---
---
---
---
---
---
---
---
Conclusion
We covered everything we could in the reviews above, which option you go with depends on your needs and what you intend to use the Ryobi Weed Eater for.
If you're looking for a professional piece of equipment capable of heavy duty use (ideal for light woodland) then the Ryobi 40v Weed Eater is what you need. This is a unit capable of basically everything you ever expect a weed eater to do. The battery lasts a long time and is included with the unit. The only downside is it's not part of the Ryobi ONE+ range so if you're looking for a bare tool unit because you already have a charger and battery is doesn't make much sense.
The best value tool we reviewed and the one we recommend for an average house owner looking to do their garden in ease is the Ryobi P2080 Weed Eater. This gave us 45 minutes of heavy use, for a more moderate user (and not a maniac trying to break things for our test purpose) you can expect more like an hour of use from a single 4Ah battery. Speaking of batteries this features the Ryobi ONE+ system so your existing batteries should just plug in (although the listing linked does also include batteries). This is a product that is very well made, capable of professional use but is best used on grass rather than brush land.
For people on a budget looking for a simple weed eater for a smaller garden or infrequent use the Ryobi P20019A is for you! The product is built for a budget but without cutting too many corners. With a 12″ cutting head and the ONE+ Ryobi battery system this does exactly what it says on the tin. It weights at a very light 6lbs thanks to its plastic construction and has a variable speed trigger. I found the battery on this unit lasted over an hour but this is due to a slower cutting motor which seems to use less power. As stated if you're cutting on a price or just want something for the garden, you can't go wrong with this. It's a good product, not the #1 performer but not everyone needs that. Ideal for smaller gardens where a slower cutting head won't affect you too much.
Before you buy…
Keep in mind Ryobi work with the One+ Battery system. Many of the tools reviewed today will not include a battery or charger as Ryobi give people the chance to save money on batteries and chargers they may already own. For people out there who don't already have Ryobi batteries or charger we have reviewed a number of Ryobi batteries here or you can simply buy a weed eater that includes a battery rather than the bare tool.
FAQ
Why would you want a battery powered weed eater?
Batteries offer a lot of advantage over gas weed eaters, they are quiet, more reliable, less dangerous and last longer without servicing being required. They are just as portable and thanks to advancements in battery technology they are just as powerful. Compared to corded weed eaters, batteries offer a lot more ease of use and simple storage.
Should I let my child use a weed eater?
Probably not but kids these days need to be out there doing shit, throwing stones, messing with caustic chemicals… Let them learn to be real people. My parents let me play with power tools as a kid and it never did me any harm, except for the scar on my knee from a skillsaw.
Can one battery last long enough for an entire garden?
Well it depends on your garden (size/how many borders) but yes, probably. Most of the products tested had at least 40-50 minutes of use on a single battery and I think that's enough for 95% of people out there.
Ryobi do a gas weed eaters too right?
Yes, we reviewed it the 25cc model. It was good.
Do you really like the Ryobi ONE+ system?
Yes! I own a lot of Ryobi tools and having single batteries makes my life easier. It's great… I know I review a lot of Ryobi products but I am critical of prices and things I don't like. I'm not paid at all to do this by Ryobi, all reviews are honest as you get.