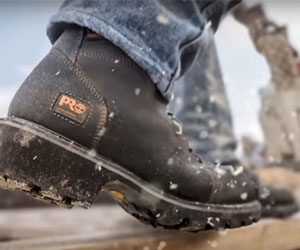 The best work boots offer users protection, support and comfort throughout a range of difficult or dangerous terrain. Finding a comfortable work boot you can wear and stand in for 8 hours can really change your mood and improve your work day also.
Injuries and discomfort should be avoided when working in dangerous places, but you should already be aware of what kind of footwear you require. For example those of you who work in warehouses won't be looking for the same sort of protection compared to people who work on roofs. Also take note of important aspects of a boot such as ankle protection, if you're working somewhere with a high risk of rolling your ankle on rough terrain then a low cut boot will not be for you.
Not all boots are created equal. In this article we will be taking a close look at a selection of 10 work boots. We can't help decide which one will suit you best as every ones needs are different. If you need more information on buying your first pair of work boots take a look at our buyers guide.
Work Boots Reviewed
If we are looking for the best work boots, we will have to look at several factors including:
Comfort – Obviously, a good work boot is comfortable.
Protection – What kind of protection the boot offers.
Durability – Work boots have a hard life, we look at
Designs – Depending where you work, different designs will suit you better than others.
When you have found a product that meets these criteria, you will have the best work boots.
Buyers Advise: Before buying your boot, make sure that it passes any safety requirements at your place of work. Some sites will only allow boots with a protected toe cap for example, while other sites will not allow toe cap boots.
Look at the comparison table below for a quick overview of what we reviewed.
---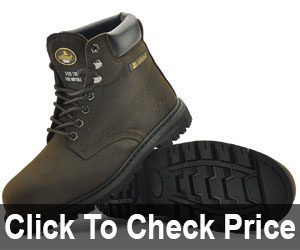 The Safetoe Safety Boot is a solid choice for general use. It really is what is says on the tin, a boot designed for construction, that is hard wearing and protects the users well.
Featuring a solid steel toe, as well as flexible steel plates in the sole of the safety boot, you are going to be well protected against dropping items on your feet as well as punctures. The design of the boot also means your ankle is well supported, if you are working on uneven ground (such as construction or ground work) this could be even to save your ankles if you slip or roll your foot.
The treat pattern is also ideal for any terrain, leaving you with plenty of grip on almost any surface.
Comfort wise we found the fit to be exactly what we expected, I was impressed. There isn't much padding so if you are looking for this I would also wear thick socks to help but it was by no means uncomfortable. The only downside I felt was the weight, they are a bit on the heavy side but if I didn't also have 9 other pairs of boots test I doubt I would have noticed. The insole of the boot was also very comfortable and absorbed shocks very well.
The material used on this work boot is cow leather. Treat your boots to mink oil to keep the leather soft, and snow seal on the seams and stitching to keep water out and I feel that you will have a great pair of boots for many years to come.
Pros
High quality construction
Well suited to almost all work envrioments
Comfortable design
Well priced
Cons
Boot felt heavy compared to other options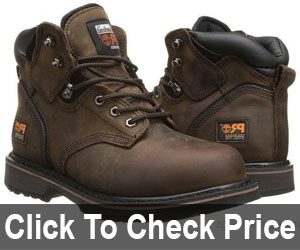 Right out the box you can see the high quality these boots are. Very impressive construction, not a single stitch out of place and the material is just beautiful. It's almost a shame they are for working in.
These boots offer the buyer outstanding quality in both construction and materials. Everything from the cast lace hooks to the padding at the top of the cuff was excellent, as you would expect from a huge brand such as Timberland.
However, they did not suit me. I found them to have a very weird feel around my arch. Upon further research this is designed to take pressure off your foot when climbing ladders but this made the boot very uncomfortable to wear for long periods.
Editors Note: I'm aware we all have different sized feet and tastes, I personally found them tight around my arch. I would advise all buyers to buy these products in person where they can try them on or buy from an online retailer which accepts returns.
Lots of colleagues at my job wear these boots and they come heavily recommended. They were very highly praised by a friend who used to work at a trash burning plant, who said these boots were the only boots that ever survived longer than a year in hot ash, other work boots he has tried dry out, crack and break down. For him, these are the best work boots. I personally don't doubt this, the quality of the leather on these safety boots was incredible. Very soft, no break in needed.
Fitment was exactly as expected, they really fit me like a glove. If you go for these, order true to size with no issues.
Pros
Outstanding construction quality
Big brand
Super hard wearing
Cons
They have a very weird fit around the arch, I personally found them a bit uncomfortable for long periods of time.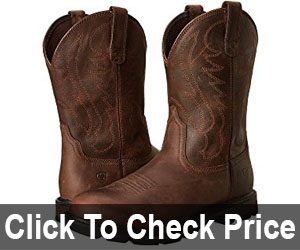 Time for something a little different. Ideal for those that are trying to avoid liquids such as concrete workers, pull on boots are a great and comfortable option.
The lace-less design meant in mud especially I experienced no water ingress, my feet were dry throughout the test.
The soft toe box meant I was at risk, where a steel toe box would save me this boot left me feeling a bit exposed but the leather offered adequate protection for general use. Unless I was at risk of dropping a hammer on my foot I think I would have been fine.
These boots fit true to size with no issues, leaving enough room for a good quality work sock. I was concerned when I ordered these about my calfs (which are muscular) about fitment in the shaft but I found it to be fine. Plenty of room was available which still let me move my feet normally.
I personally found these boots to be very comfortable, construction was also very good. They did need breaking in, at first they were right around the middle but after a couple of days they loosened up and fit very well. The lack of steel toe box also meant nothing was digging into my feet when kneeling down and completing welding jobs which was refreshing.
I imagine these are not an option for construction due to lack of steel toe cap, but for general workshop work I think these are a solid option. I rate them very highly.
Pros
Very comfortable
Waterproof and warm
Cons
Lack of steel toe cap, limits where they can be used.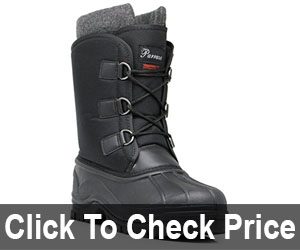 For those of us who work outside we are all going to eventually get caught out, in winter. The freezing cold rain can be totally demoralizing, especially if you don't have the right gear keeping you warm and protected.
This is where the Enzo Romeo AP Winter boots come in to play. It's unreasonable to expect one work boot to keep you protected and comfortable all year round. We change our jackets and trousers to suit the weather, boots should be changed also.
As you can see the boot uses the latest in synthetic technology to keep users dry and warm. The insulated (and removable) thermal liner keeps you warm and dry in the worst of conditions which is excellent and the design itself also prevents water ingress.
There are several downsides though, lack of steel toe cap means they may not be an option for some sites or lines of work. The construction quality felt cheap, I highly doubt they would survive much daily use.
Fitment was a little tight, I would go 1/2 a size up if I was to order these again. They are extremely comfortable, but not suitable to daily use in my opinion.
Pros
Very comfortable
Waterproof
Warm
Cons
Lack of steel toe cap
Poor quality construction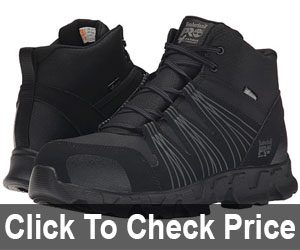 Just like the other Timberland PRO's on review in this article I was blown away by the quality of these boots, but kind of confused to why they were made. The entirely synthetic design kind of leaves it looking like and feeling like a sneaker. The tread on the bottom of the boot is incredibly smooth, you can tell these are not built for outdoors.
But once you start reading the specs of this boot it becomes very obvious what they are designed to do. The Timberland PRO Powertrain is designed for high static environments where sensitive electronics may reside. It's equipped with ASTM-rated ESD protection to protect electronics from shocks which can damage them.
It also features an alloy toe cap, meaning the boot itself is incredibly light. It really does feel like a sneaker. I was able to wear these for 12 hours with no issues at all, they feel like you are walking on a cloud.
Buyers Note: Alloy or composite toe caps are designed to give all the benefits of a steel toe cap, with the additional benefits of qualities such as keeping weight down in the boot. They are often made from Aluminium or Fiberglass.
Fitment wise they were a little on the large size from what I expected but I got around this with a padded work sock. I would order 1/2 a size smaller than what you normally wear but again this could be personal preference.
The best quality this boot offers is the construction, the quality on this boot is amazing. In terms of quality of construction this is without doubt the best work boot on review today. Every stitch was perfect, no flaws could be found at all. Very impressive.
This boot also offered great ankle support.
Pros
Very comfortable
Very light
Felt like a sneaker
Best work boot we have seen in terms of manufacturing
Cons
Poor tread on the bottom of the shoe, it's clearly built for indoor use.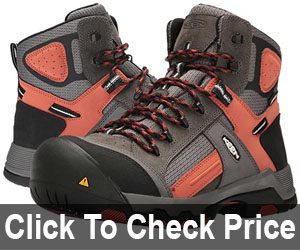 The KEEN Utility Davenport boot was an excellent piece of footwear. Composing of a hybrid leather and synthetic material construction it really took the best from both worlds to great a great, light and comfortable boot.
Ideal for both indoor contractors (such as electricians) and builders, this is a very versatile boot. Aesthetically, the design is also very nice. I was able to wear this boot for the entire day without much of an issue at all, it was breathable, comfortable and light.
I was also impressed with the composite toe cap, the left and right toe caps are not the same shape, meaning each side is designed to protect that particular foot a lot more than the other boots on test which just use a generic toe cap shape in each boot. This was also a lot more comfortable as there was not so much free space around my toes which stopped them slipping and developing blisters like on some other boots I reviewed.
Fitment wise they were exactly what I expected, I ordered a 10 and they fit with no issues. They suited my wider foot with no issues which is nice. The only downside I can share with this boot is they didn't "feel" they would last as long as some of the other boots, I can't exactly put it down to anything in particular. In my experience I've noticed boots that have a chemical bond (glue) to the sole of the shoe don't seem to last as long as those with a mechanical bond (stitching).
The boot overall was very good, I would personally question the longevity of the boot but right now, out the box and with a couple of weeks use on them they seem fine. I like them very much.
Pros
Super good looking
Very breathable
Nice and light
Cons
Didn't feel like they would last too long.
Adtec might not be a brand you're aware of but they caught our eye when selecting the boots for review. Offering what looks like a good, classic design, decent support at a surprisingly low price this looked like it could be a contender.
Offering great ankle support and a great pattern on the sole, the Adtech Logger Boots are a fantastic option for those that work outdoors, like the name suggests… They would be ideal for those that work in woodland but really any environment with uneven ground. The tall design and lots of eyelets for the laces mean you really can get this boot tight and comfortable protecting your ankle from any twists or bends it may face.
What you are getting with this boot is a nice simple design, no inner lining, no toe protection. Just a solid, traditionally designed boot. But what makes this interesting is the price, it's very reasonable.
The size was what I expected, construction is also rather nice. I would recommend treating the leather before use as it looks to be a bit porous and could soak up liquid which isn't exactly ideal.
Alternatively, if you're looking for a decent boot at a low price for jobs around the house or infrequent use these could also be ideal.
Pros
Excellent value
Simple traditional design
Excellent for outdoors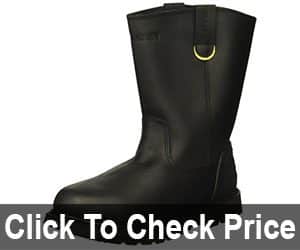 If you are aware of Stanley you will know their name comes hand in hand with quality and these boots are not any different as long as you know what they should be used for.
If you are looking for a more "wellington" style boot that will put up with punishment from mud, concrete and other wet conditions then this is the sort of thing you need. Typically used with another more normal boot you will switch footwear when needing to enter wet materials.
I found these boots to be ok, they really offer no support and didn't quite fit right for me (they arrived 1 size too big). They are what they are, designed to be water proof and easy to slip on, ideal for pouring concrete or working in wet conditions. I tested these digging foundations in clay, they were pretty good and kept my feet dry but not much else.
Other good points include the price, which is low considering you are buying a product from a well known brand such as Stanley.
In summary, this is a good option for those looking for a nice, cheap, semi-comfortable pair of slip on boots when dealing with wet conditions.
Pros
Cheap
Water proof, built for wet conditions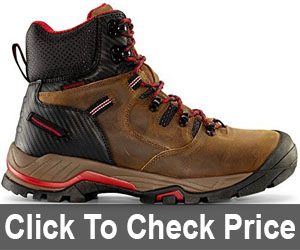 Maelstrom might not be a name you are aware of but they are a very popular brand for budget footwear offering a range of options. In this case we are looking at the Maelstrom Utility Work Boots.
I really liked the way these felt on my feet, they were beautiful to wear offering super light weight construction leaving them feeling more like sneakers than work boots. Fitment was very good, pretty much delivering what I expected and design was nice. If you click the Amazon listing you will see a range of colors and options available.
Construction quality though is the let down, really they are more like walking boots and really these seem super light weight. Would they cope with the day in day out abuse the boots seem to take, I really doubt it. The synthetic materials used to make the boot so light are also probably what would let the boot down in terms of abrasion.
All Maelstrom footwear products are designed in the United States and manufactured in ISO9001-certified factories for superior quality. They're also backed by an industry leading 1-year manufacturer's warranty. A removable cushion footbed paired with shock absorbing lightweight EVA make for a comfortable feel leaving you light on your feet. Combined with a ASTM F1677-96 Mark II standard meeting non abrasive, non marking slip and oil resistant outsole.
Summing this product up, you're going to get a very good boot for not much money. Very comfortable, offering decent protection but I doubt this pair of work boots would put up with too much abuse. If I'm honest this would probably suit a workshop environment much more than a construction environment.
Pros
Comfortable
Affordable
Super light weight
Cons
Not suitable for all environments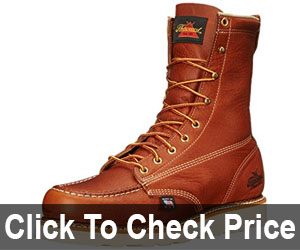 Made in America, Thorogood seems to deliver exactly what you want to. A decent boot at a decent price. I found this pair of boots to be nothing short of brilliant. You will love how they feel with a soft cotton lining with a removable (for cleaning) duel density insole designed to reduce shocks and wear on your body. The boots feel light overall and after 10 hours wearing them really I didn't feel any fatigue at all. These are the most comfortable work boots we reviewed.
Safety features wise, they unfortunately offer no toe protection. Ankle support is excellent with a fiberglass shank and high top design. The wedge style sole is abrasion and slip resistant stopping you from losing your footing in even slippery conditions.
Quality wise, I am very impressed. All seams are triple stitched meaning they should last a long time and the leather is great quality, as good as anything else on test.
Buyers Advice: Looking for American made products, this one is for you!
The only downside which lets down this boot is the lack of toe protection. The design of the boot itself does not lend itself to this either. The toe box is very slim, leaving very little space around your toes meaning any impact at all would be felt.
Fitment wise I found they ran true, but the comfort is just unbelievable! Without doubt, this was the most comfortable boot on offer but they do come at a price.
Pros
Made in the USA
Excellent quality
Very comfortable
Cons
No toe protection
Kind of expensive
Buyers Guide
The world is moving fast. Technology is growing, new things are being discovered everyday. But one think that will remain consistent is the need for people to work manual labor on construction sites, warehouses, farms, yard tasks and all sorts of other jobs. Without people willing to get down and dirty we simply would not progress.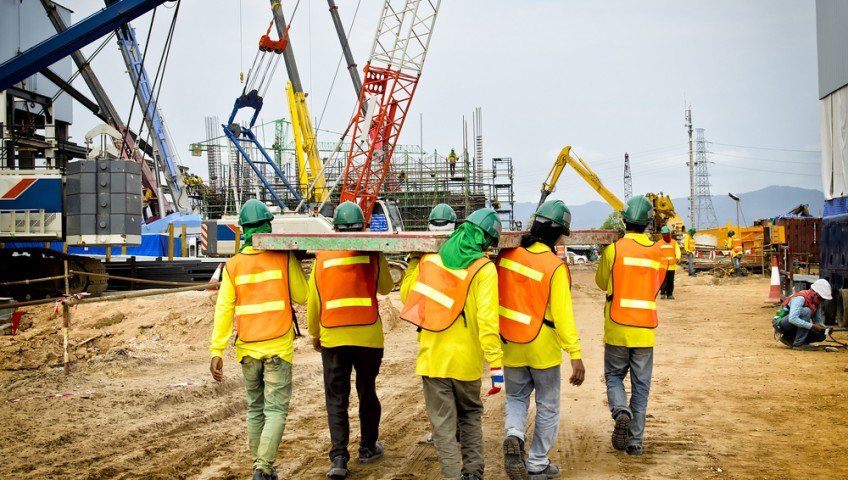 However, even the best teams need the right tools. If people are not dressed correctly they risk injury or even death. If you're working outside and you are not wearing the correct protective clothing then you're a risk to yourself, your colleagues and your employer. You will be unable to work with a foot injury, this is why you should invest and get yourself the work boots that suit you best.
Quality footwear can help prevent:
Slipping.
Falling.
Twisted or sprained ankles.
Impact injuries.
Broken toes from dropped tools.
Pain.
Protecting your feet is important. Welcome to the buyers guide which will help you make the right decision and find the best work boots for you.
Work Boot Construction Materials
Work boots are made from all sorts of materials, but there are two main options when it comes down to picking work boots, synthetic or leather. Both have good and bad points, and truth is a lot of work boots use a combination of both. I will briefly talk about each option
Synthetic
Synthetics materials such as Nylon or Polyester have been part of clothing for a long time so it's not surprise they are used in footwear.
Synthetic materials offer advantages such as:
Low maintenance in terms of care, depending on the boot you can throw them in the washing machine and be relatively care free
They are usually totally waterproof
Hard wearing
Cheaper
All these properties make synthetic boots seem like the best option, but some of these qualities come at a cost. Some of the disadvantages are:
Synthetic materials melt in high temperature, which means they will stick to your skin. This is not good if you work in welding, blacksmithing or metal forgeries.
Not breathable, leaving your feet hot.
Synthetic fibers do not wick away sweat like natural fibers
These are pretty big downsides and explains why most of the work boots you see are constructed from natural materials like Leather.
Leather
Leather is a natural material made from the hide of animals such as cows. It's been used by humans for clothing and even armor for 100's of years and even centuries later we have not found a better material for our feet.
Advantages to using Leather are:
Natural, breathable material
Water proof when treated properly
Very hard wearing and protective
Disadvantages to using Leather for work boots include:
Requires care, without protective products such as mink oil Leather will dry and crack.
Leather can shrink depending on moisture or temperature.
Generally Leather work boots will require a bit more care and attention, but get it right and you will have a pair of boots that will last you a life time. Using products like mink oil to keep leather soft and create a moisture barrier, and using snow seal on stitching and seams will be enough in most cases. Do this when you feel that your work boots are becoming dry or they have taken a beating.
Toe Caps
Toe Caps are designed to protect your toes when objects are dropped from above. When looking to buy work boots you will see three toe cap styles:
Soft Toe Cap Work Boots
Soft toe cap boots offer limited protection to your toes.
Steel Toe Cap Work Boots
Steel Toe Cap Boots offer a steel shield built into the boots upper to protect your toes from basically any damage they are likely to face.
Composite Toe Cap Work Boots
Composite Toe Cap Boots offer the same sort of protection as steel toe caps, but rather than steel a composite material such as carbon fiber or fiberglass is used instead. These are typically much lighter.
Which toe cap you need should depend on where you will be working, some construction sites and job roles demand specific kinds of protection. You also need to think about what kinds of dangers you face. For example if you were to wear Steel Toe Caps and your foot was run over the steel could crush, trapping your toes inside your boots, where a composite toe cap would just shatter leaving you free to remove your boots.