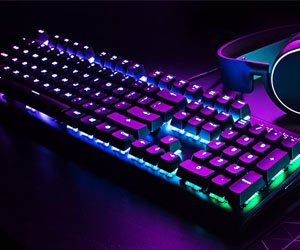 If you're just getting into PC Gaming and you're looking for your first gaming keyboard you could be put off by $200 keyboards, but relax. You really don't need to spend that much, today we will be taking a look at the best gaming keyboards under $50.
A gaming keyboard offers huge advantage over normal keyboards that you probably already use, some of these advantages are:
Tactile feeling buttons
High levels of responsiveness
Backlighting
Wrist rests for added comfort
Dedicated keys for recorded macros
When combined, you will have a much better experience playing games with a dedicated keyboard. Take a look at our detailed breakdown below of what we feel are the top 10 gaming keyboards under $50. If you don't want to read individual product reviews, click here to view the conclusion.
Best Gaming Keyboard Under $50
Before we get into it let's look at what all our options have in common.
All the gaming keyboards on review today are full size, all keyboards have adjustable height legs on the back and all the gaming keyboards you see are available for less than $50. That's just about where similarities end however. We will also be looking at some of the well known brands in the gaming industry such as Logitech, Razer and Corsair to look at their entry level options, as well as some lesser known brands including the AmazonBasics range to see how they compare.
If you feel we have missed any obvious choices for the review or have long term experience of any of these models, feel free to leave a comment below.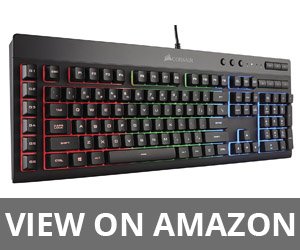 Corsair are big names in PC gaming and their K55 gaming keyboard is no different. Offering superb features such as dedicated macro buttons and detachable wrist rest you may think that this keyboard costs much more than it actually does.
Looking closely at things we can see that as gaming keyboards come, the K55 on the surface looks stacked. It has a big brand (and the support/quality that comes with a big brand) behind it, and all the features you would expect. However, it must be noted that this model does not come with mechanical keys.
For those new to PC Gaming mechanical keys use individual switches to register a keypress, compared to normal keyboards that use a membrane. Mechanical keyboards are more responsive and tactile which is an advantage when gaming.
Other than that, the Corsair K55 gaming keyboard is fantastic value for money and a great option for those new to gaming. We found the keyboard to be extremely pleasant to use, pressing down keys gave a very positive feel and the included wrist rest is a great addition to any keyboard offering at this price point keeping comfort at a maximum during long gaming sessions.
This particular gaming keyboard also includes RGB backlighting, which enables the user to set custom lighting options on their keyboard to further immerse you into the action. All of this adjustment is available through software that Corsair bundle in for free, an example of what you can do with this can be seen below.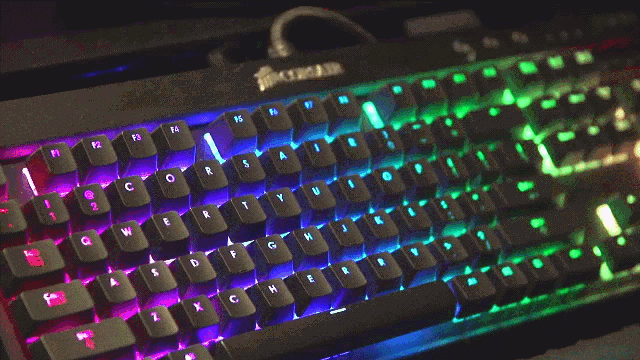 Things also look good when you dig into the technical aspects of the keyboard, featuring 6 dedicated macro keys advanced gamers will be able to set up dedicated keys for repetitive tasks. The keyboard also features multi key anti-ghosting technology meaning pressing multiple keys won't confuse the keyboard (which can happen with standard everyday keyboards).
If you're new, this gaming keyboard features everything you need and more. It will serve you well for many years, allowing you to be pwning noobs, not being pwned by noobs.
Pros
6 dedicated macro keys
Included and removable wrist rest
Impressive RGB LED backlighting
Extremely responsive
Cons
Uses membrane keys, not mechanical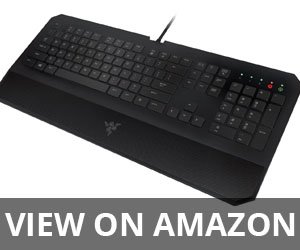 Like the Corsair K55 above, this Razer Deathstalker Essential comes from a well known company in the gaming industry with a history of making fantastic gaming keyboards. What we have here is a "stripped down" version of a more fully featured product, the Razer Deathstalker Expert which is a keyboard I owned and used everyday for a couple of years. The only real difference being the price and LED back lighting has been removed on this model. Functionality wise they are identical.
The keyboard features low profile "chiclet" keys, very similar to what you would find on keyboards and laptops from Apple. If you're not used to this style of keyboard they can take some getting used to as they have a very different feel, but once you're over that it's not big deal.
For comfort, the keyboard includes a non-removable wrist rest. This won't suit everyone for but personally I am a fan of wrist rests. They really can help fight off fatigue during long sessions of work or gaming.
As with all of Razers gaming keyboards, this models is compatible with Razer Synapse. This a cloud based platform that stores your keyboard settings as a profile which can be downloaded and used across multiple games or systems. If you are someone who is likely to play LAN parties or events this is a fantastic feature and something that is worth setting up for more hardcore gamers.
Technology wise, you're again getting membrane keys. For gaming keyboards under $50 this is something you're going to see a lot so that's expected. The Razer keyboard also features the ability to record macros, but does not have any dedicated macro keys like the K55 we reviewed above. This keyboard also features the same sort of anti-ghosting technology the Corsair K55 offers which is good. The keyboard also features a rubberised finish, which feels nice but does collect dirt and grease over time. Taking care and cleaning this keyboard often will help combat this.
In summary, which this is a Razer product, it doesn't really feel like it offers all the features other models does. However, it's well built, feels very good is very comfortable. It's not a bad option, but compared to other keyboards I'm featuring it seems a bit boring. It's just a very well put together "normal" keyboard, there isn't really that much that makes it a dedicated gaming keyboard other than the brand.
Pros
Very well made
Razer synapse allows you to save keyboard profiles online
Cons
Uses membrane keys
Lacks features such as LED backlighting and dedicated macro buttons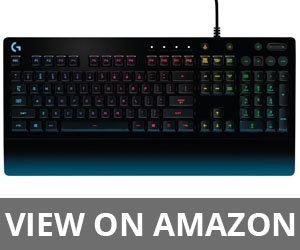 Much like the other two gaming keyboards we have already covered, this one comes from a brand you will already know. The Logitech G213 is a budget gaming keyboard that on the surface seems very similar to the Razer Deathstalker Essential we covered above. Featuring a similar design and again, a fixed non-removable wrist rest you kind of lack a bit of adjustment if you're one of those people who prefer not to use wrist rests. However, this keyboard scores above the Razer Deathstalker Essential if you prefer a keyboard with RGB backlighting and regular keys. The keyboard also features two buttons that allow you to turn off the windows key when gaming, as well as turn off RGB back lighting.
Note for buyers: For those with shallow desks, keyboards that have a fixed wrist take up a larger portion of your desk. This can be annoying if you're lacking space.
The Logitech G213 is an excellent option for those getting into gaming or looking to upgrade their current Gaming Keyboard. Featuring fully customisable LED backlighting and the ability to set function keys to gaming macros this keyboard will enable users to have a hell of an experience when playing online.
Using this keyboard was also very nice, key presses are very positive. Logitech boast that this keyboard sends information to your PC 4 times faster than a regular keyboard, meaning your inputs are registered faster than your opponents. This is the sort of technology that makes it obvious why you need a gaming keyboard, to give you a critical advantage over other users. This can be the difference between winning and losing a gunfight when you're in the final 2 of Fortnite.
Logitech, just like Corsair and Razer bundle in software with their keyboard allowing you to unlock extra features and customise your experience. Just like the other two keyboards featured so far, this is a not a mechanical keyboard. Despite this key presses were pleasant and positive.
In summary, you are getting a keyboard with great features, backed up by a big manufacturer with history of making great products for a great price. Really I would say this is a great keyboard for casual gamers, if you're looking to be the next member of OpTik you're going to want features that this keyboard lacks such as dedicated macro keys and mechanical keys. This is still a great option which was great to use, and for the price I was super impressed.
Pros
Pleasant to use
Customisable RGB backlighting
Liquid resistant
Cons
Uses membrane keys
Lacks features such as LED backlighting and dedicated macro buttons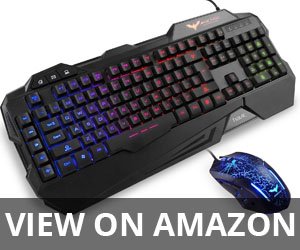 Unlike all the keyboards reviewed so far this gaming keyboard probably doesn't come from a brand you recognise. Havit are not a company I have heard of, but they are offering a keyboard and mouse bundle that look very attractive for a very low price. The same sort of price you would pay for a regular keyboard and mouse combo, never mind gaming equipment. For the sake of the review though we will be looking at the keyboard, although I can say the mouse was functional but it also felt extremely cheap. It was basically a regular $5 mouse, with some LED's and cool graphics.
Unfortunately, the same can be said for the keyboard. While it looks extremely inviting and "gamer" like with it's cut out design, it feels very cheap. You really can feel the keyboard flexing while typing, the keys feel like a regular keyboard and except the style and LED back lights, I can't find any features that lend itself to what we are looking for in a good gaming keyboard.
In fact I would go as far to say this has features that make it worse for gaming, including the ability to pick how much latency your keyboard has before it sends the signal to the PC, with 3 options from 400ms to 800ms. If you have spent as much as 5 minutes playing games this will scream WTF to you. Gamers want as close to 0ms latency as can be achieved, latency is bad.
The LED backlighting looks good, however features no customisability at all.
What this product is can be summed up like this, a regular $15 keyboard and mouse. Wrapped up in a fancy case with some added LED's and sold for twice the price. I would not advise anyone to go with this as an option when for very little additional money you can have a product designed for gaming, from a manufacturer that has pedigree in the industry.
Cons
Poorly made
Not a real gaming keyboard
Can't see it lasting a long time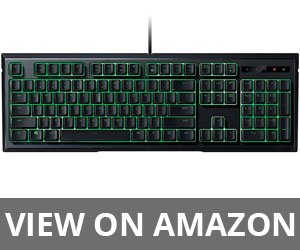 Again we are here with another Razer product. While the Deathstalker Essential reviewed earlier was a simplified product, this one isn't. Featuring additional features such as removable wrist rest and RGB backlights on keys this Razer Ornata features nearly everything that every other keyboard has to offer.
Again like all Razer products, if you go with this you can enjoy Razer Synapse. Which will sort your keyboard options allowing you download them on other machines or set them as available products if you switch games. The keys are also brilliant, they are custom made by Razer. They are built slightly shorter than regular keyboard keys meaning the user doesn't have to press as far to activate the keypress. Users will enjoy this.
The removable wrist rest is also a feature normally spared for more expensive gaming keyboards. It works very well, locking into a lip on the front edge of the keyboard. However, like all keyboards features so far this is again a membrane keyboard and not a mechanical one, but with the low profile keys you probably won't notice too much.
This keyboard does feature LED back lighting, but unlike other models they are fixed green and are not colour adjustable.
This is a very well put together product, very well made as you would expect from Razer. It features a dedicated gaming mode which disables the windows key and allows for on the fly macro recording. It's a great product but does lack some features I'd like to see such as dedicated macro keys.
Pros
Low profile key caps
Very well made by a recognised manufacturer
Detachable wrist rest
Cons
LED back lighting only available in green
No dedicated macro keys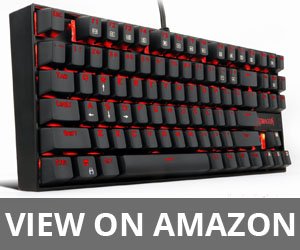 Redragon might not be a brand you have heard of, but if you have done any serious research into gaming keyboards under $50 you will see them come up again and again.
Firstly, lets start out with what makes them different compared to every keyboard here. They have Mechanical Keys, yup. A gaming keyboard priced under $50 with mechanical keys and they are not cheap, horrible mechanical keys. They are glorious to use, very crisp. On my with MX Cherry Reds that I use. For those who don't know what this means, basically this feels like a $200 keyboard for under 20% of the price. It really is outstanding value and it just keeps getting better also.
The keyboard is super minimalistic, featuring nothing more than it has to. There is no fascia or wrist rest. There is also no number pad, but very few people use number pads. Design wise it's genius. I was very pleased with it, it had what it needed and nothing more meaning it was super compact on my desk and simple to use. For the super geeks out there, the switches are made by Outemu and are on par with the Cherry Blue from MX. They offer a nice audible click and feel amazing.
Construction wise, it also gets better. Made from both metal and ABS this thing is solid, it feels like you could beat a man to death with it if you had to. You should have no problems with this gaming keyboard at all. It feels like it will last you for years to come.
The keyboard also features LED back lighting, but like the Razor Ornata Expert you are stuck with a single colour, red. This might not suit everyone but after using the keyboard for a few weeks I can forgive it for just about everything at this point. The key caps seem to be molded meaning the lettering will never scratch off.
The keyboard also features non-slip material on the bottom which is super nice and it's spill resistant so it should last a disaster or two.
Overall I am very impressed with the keyboard. Out of all those reviewed today I believe this offers the best value. The only downside I could mention about it is lack of media keys as well as lack of dedicated macro keys. If you can get over that, this is probably your best option on review today.
Pros
Mechanical keys
Very solid gaming keyboard, plastic and metal construction
Solid design, with no number pad
Cons
LED back lighting only available in red
No dedicated macro keys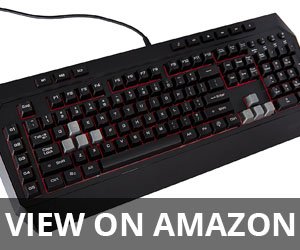 You might be surprised to discover that Amazon have launched a Gaming Keyboard under their AmazonBasics brand, I was. You might even be more surprised that it turned out to be one of the best keyboards I tried also… I bought this as a meme, I was shocked that it even existed and didn't hold out much hope going into it but to be fair it held it's own against the big brand budget keyboards on review.
It has some tell-tale gaming features such as the colour capped WASD and direction keys, a really nice touch. It also has dedicated macro keys with a function key allowing 1 key to do 3 things (15 total) which is really cool, no other keyboard on review does this. It comes complete with media buttons. The keyboard also offers RGB back lighting which can support 16.8 million colours, as well as a gaming mode button which disables the windows key. You can really see how it begins to stack up against the other, more well known competition.
Like the big brand keyboards on review earlier, this comes with software for the keyboard allowing you to play with settings and tune the RGB LED back lighting on an individual key level. One thing that also impressed me was the quality of the finish, little touches like sleeved cables to protect it from bending and getting tangled up was an awesome little touch normally only seen on far more expensive keyboards. The keyboard also featured a built in wrist rest which was nice and short, it felt good.
Construction was also very good, keys are membrane keys but they felt very positive and clicky. It was a really nice keyboard to use.
This keyboard has everything you need, in all honesty I felt it was better than the Corsair K55 we reviewed earlier. I was genuinely shocked. However, could you live with owning a keyboard that says "Amazon Basics" on it. It's a silly point to make, because honestly that's the only fault I can find in what is a very nice gaming keyboard.
Pros
Very good build quality for price point
Very customisable via included software
Dedicated macro keys
Cons
Do you really want an Amazon keyboard?
Conclusion
In conclusion to the reviews that have taken place we are left with what I feel are the main three contenders:
Out of the three, my personal preference has to be the
Redragon K552 KUMARA, mechanical keyboards (if you have never used one) are outstanding. They are just fun to use, very tactile. They feel pure.As mechanical keyboards go the Redragon has everything you need and it's a great price. It felt on the same level as my gaming keyboard that cost over $150. It really does represent great value for those who are new to gaming or looking for a great deal.
Next in the ranking is a toss up between the Corsair K55 and AmazonBasics Gaming Keyboard.
It pains me to say, between the two the AmazonBasics Gaming Keyboard is the better product. It felt better and has a lot of the same functions for a lower price… but like I said in the review do you really want to game on an Amazon own brand keyboard? It doesn't have the cool factor the Corsair K55 has and I think that's worth considering.
You don't see top rated posts in /r/battlestations with Amazon gear. It's not right but what makes this interesting (after speaking with a friend who saw my Amazon keyboard), pwning people using a silly keyboard like this did give me an extra sense of pride. I know they are sat there with their expensive branded year and here I am beating them silly with a cheap no-name keyboard. That might be what swings it for you, I don't know but for the money it's a very solid product.
The only keyboard I would avoid out the list is the Havit Keyboard and Mouse Combo. What looked like a potentially decent deal was one of the worst things I've ever reviewed. Avoid it and kill it with fire if you have the chance.
What did you think of the review? If you feel I have missed any potential keyboards out please let me know by leaving a comment below. Also if you have long term experience with these products feel free to let me know how you're getting on with them.