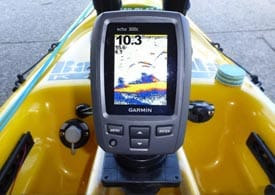 Fishing on a Kayak can be a lot of fun, but only when you catch some fish. We will be looking at the #1 gadget for kayak fishing, the best fish finder for kayak!
Fish finders work by using sonar and other technologies to scan the water and detect fish. They can accurately tell you where the fish are and where you need to be to catch them and bigger versions of the same technology are used on commercial fishing vessels. If you are struggling to catch fish or you want to catch even more fish, using a fish finder on your kayak can really help increase your catch rate.
Best Fish Finder for Kayaks
Just because you are on a tiny boat does not mean you have to catch tiny fish, a fish finder can help increase the size and number of fish that you come in contact with when out on the water. While a day paddling around always beats a day in the office, a day with lots of action on the rod beats those days when you don't catch anything.
All of the fish finders on review today have:
Good performance
Clear screens
Long range
Durable designs
Whatever you pick will be a good choice, focus on finding a fish finder that suits your budget. As you spend more money you will get better performance, more features and easier to use design.
Conclusion, what is the best fish finder for kayak?
Out of all the products I reviewed, the best three picks for a kayak fish finder are:
Best Performer: Humminbird Helix 5
I felt this had the clearest screen and longest range out of the products I tested, it was a clear winner. The unit is well made, with a nice big screen that was easy to see in sunlight. It quickly picked up target fish and this is my choice.
Best Value: Garmin Striker 4
If you're looking for medium performance at a very affordable price, then look no further than the Garmin Striker 4. This is a high quality fish finder, ideal for small boats and kayaks. It is packed with features and I found it to be a wonderful little product to use. It quickly picked out fish in close range and was very impressive.
Cheap Product: LUCKY Hand Held Fish Finder
If you're an occasional kayak fisherman or looking for something basic, this Lucky fish finder will be fine for your needs and costs very little! It lacks range and featured. It also lacks a mount which made it hard to use while on the water, but for the money what do you expect? It does the job and will get you started.
How to mount a fishfinder on a kayak?
Usually your fish finder will be supplied with a mount of some sort, some are sticky pads that use glue, some use suction mounts similar to a GPS in a car and some use magnets. Some cheaper fish finders don't have mounts and you can simply place them on your lap as you padel, I also have a friend who used zip ties and some plywood to hold his fish finder which was very effective.
Some fish finders also use bluetooth and display results through your phone. For these you will obviously need a phone mount that will protect your device from water.
How do I power a fishfinder on a kayak?
Your fishfinder will have an internal battery that should last a number of hours, but for extended trips you may want to consider taking a USB powerbank with you and charging as you go. These are basically inexpensive batteries that can power phones and similar devices while on the go, they are very handy for people who enjoy the outdoors.