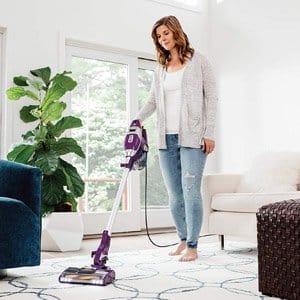 Shark are a big name in the vacuum cleaning game and today we will be putting their models to the test to identify the best Shark vacuum of them all!
Shark Vacuums have a wonderful reputation, typically scoring over 4 stars (80%+) on review platforms. They also have a huge range of products costing from $50 for entry level models right up to $500. When compared to competitor brands like Dyson they can cost around half as much and they preform just as well.
If you're looking for a new vacuum cleaner Shark are an outstanding brand to go with. They have a huge range of vacuums which have lots of form factors such as hand held vacuums, upright vacuum cleaners, convertible 2-in-1 models and robot vacuum cleaners to.
With this brief introduction completed, lets take a look at what we will be reviewing.
Best Shark Vacuum
This review is going to cover the top of the range that Shark offer. From portable battery powered stick vacuums, to powerful upright cleaners (and everything in between). Shark has a huge range of vacuum cleaners and we are here to find the best.
---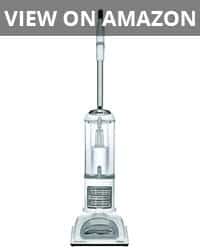 This Shark Navigator (with Lift-Away) was found to be the best choice overall. For the relatively low cost and high performance we think this is the best shark vacuum on review today!
In our tests this model performed faultlessly, it was easily able to switch between hardwood floors and carpets cleaning both very well. We were unable to clog the vacuum cleaner either when trying to suck up huge piles of dirt.
When we needed to empty it's bag-less system it was quick, easy and clean! It was a joy to use. The Shark vacuum was also delightful to steer and manoeuvre around with ease. The vacuum also detaches from the main unit as well so you can use it in a handheld move which is brilliant for cleaning the stairs or in your car.
It's also relatively light weight at 13.7lbs, it comes complete with a HEPA filter and Anti-Allergen technology. If you're a pet owner you're also going to love the brushroll feature which had no issues with dog hair on our test. The only downside we can see with this product is it lacks a few accessories which would make cleaning in tight areas a little easier, but these are sold separately.
This is a brilliant upright vacuum cleaner.
Pros
Very powerful
Very easy to empty and clean
Perfect for hard wood floors and carpet
Cons
Lacks accessories to clean in tight areas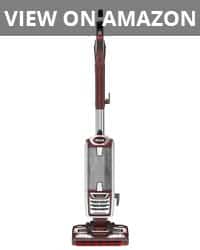 If you're look at the no expense spared, best shark vacuum cleaner option then the SharkNinja DuoClean is the model for you. This was the best performing model we tested on review and it's no coincidence that it's also the most powerful vacuum we are reviewing today.
This thing could suck harder than a girl of the night, apparently. It features a patented dual brushroll system which is able to pick up absolutely anything from carpet or hardwood floors. The additional brushroll is a soft brush which helps to gently polish hardwood floors also.
This vacuum cleaner also features a whole host of other technologies, aimed at keeping your family safe with it's Anti-Alergen complete seal HEPA filter system. It also has things you don't even need like powerful headlights on the vacuum cleaner itself helping you spot dirt under furniture and in dark spaces.
The vacuum clean itself is able to be used as an upright or hand held. It's bag-less and features a lot of accessories such as Under Appliance Wand, Pet Power Brush, Pet Multi-Tool, Duster Crevice Tool and Accessory bag.
Pros
Contains a lot of extra accessories
Most powerful Shark Vacuum Cleaner
Beautiful to use
Cons
Expensive compared to other models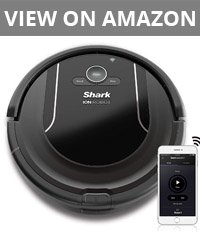 Ever dreamed of never having to clean your home again? Want to live in the year 3000 where the robots do it for us? Well it looks like we're getting closer and closer to this. This is the Shark ION Robot Vacuum.
This is by far the coolest thing we have reviewed for a long time, the Shark ION is very easy to set up. Simply program when you want it to clean, how long you want it to clean for and it will simply do it. It's controllable by your phone through an app available on Andoid and iOS but it's also able to hook up to Amazon Alexa and Google Home. We found all this very easy to set up and very reliable.
During testing it worked, not as well as a "real" vacuum but the Robot did a good job. We do have to bring up some downsides though… The suction on this model isn't that strong. It really struggled with hair and deep piled carpet (but it's battery powered, so it;'s understandable). You;re also going to need a "real" vacuum cleaner as this clearly can't clean everywhere (like stairs for example).
If you're looking for something to extend periods of time between you actually having to do house work, this is a real option for you. But it's not a replacement for a standard more traditional vacuum cleaner.
Pros
It's a FREAKING Robot!
Can be controlled by Alexa or Google Hub
XL dust bin
Cons
Kind of weak
Not a replacement for a real Vacuum Cleaner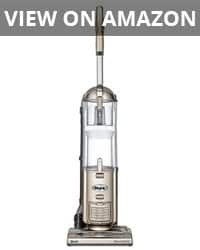 Shark Navigator Deluxe Upright Corded Bagless Vacuum Cleaner is just that, an upright corded bagless vacuum cleaner.
Is it the best shark vacuum, or the most exciting? No. But then again it's just a vacuum cleaner. It's form factor is a lot more traditional than other vacuum cleaners on review. It's a standard upright design with a removable hose that adds 10 foot of reach on through the pipe and super stretch hose.
Included are a range of attachments including motorised floor brush, cleaning wand, pet hair power brush, dusting brush and small crevice tool.
This vacuum was really powerful, easy to use and clean. The capacity of the bagless-canister was around half a gallon, big enough to use 2-3 times on an average room before having to empty it.
Pros
Large capacity
Bagless design
Powerful and Lightweight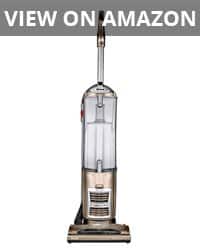 This is a great vacuum cleaner by SharkNinja.
It features a huge capacity, making it ideal for family homes. You could easily vacuum an entire home with this before you have to empty it.
The vacuum is easy to move around and steer. The product is super powerful, very versatile with a long detachable hose, comes with a number of accessories and works well on all types of flooring.
This vacuum also has some wonderful reviews, with over 500 5 star reviews online. People love the build quality, it's ability to clean pet hair and say it works great.
The only downside I can possibly bring up is the product is physically big. It's a bit of a pain to store and requires it's own space. But if you have the room this is a solid choice for a family home.
Pros
Extra large capacity
Very easy to steer
Anti Allergen Technology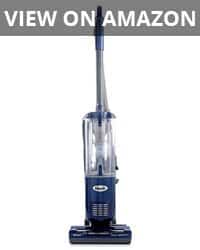 If you're looking for a budget pick, this is for you. The SharkNinja Canister Upright Vacuum is the lowest cost vacuum cleaner on our list and is an excellent budget vacuum for small houses or apartments.
This vacuum is very simple to use, we found it to have good amounts of suction and works with a bag-less design, so you're never going to be paying for vacuum bags.
It comes with a detachable hose ideal for jobs in tight spaces. It's also the smallest model in the Shark Navigator line, meaning it weighs in at just 10.6lbs and can be stored in small spaces. This is the ideal vacuum for small houses or apartments.
Another huge advantage is all the filters are removable and can be washed in a sink. You're never going to be paying more money for parts like you are with other vacuum cleaners.
The only downside is during tests we found the vacuum to get very hot after about 30 minutes of use. If you have a big area to clean you may want to look at other models. Otherwise this is an excellent product.
Pros
Outstanding value
Never loses suction, no maintenance costs
Very light in weight, just over 10lbs
Cons
Can overheat during long periods of use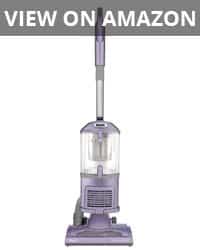 This is another great product from Sharks range of vacuum cleaners.
This Shark Navigator features all the accessories you would want in a general use vacuum cleaner for a nice family home. It comes with a HEPA filter instead of the sponge filter seen on some cheaper models. It also comes with the Complete Seal Technology, trapping 99.9% of dust inside the canister. We found the swivel steering to also be excellent, the vacuum was almost able to turn in on itself which is excellent for tight spaces. The "Lift-Away" feature is also excellent if you're looking for a 2-in-1 hand vacuum, it's super easy to do and allowed us to clean almost anywhere.
Another excellent feature this Vacuum has is the brushroll shut off. This allows you to drop the brushroll for delicate flooring like deep pile carpet or hardwood flooring.
The one problem we have with this particular model is it's unstable, and what we mean by that is if you set it upright and walk away it can fall over, especially when the dust compartment is full. It seems to be that the natural upright angle this model sits at is very close to the natural tipping point of this product. We also saw lots of similar reviews online so it's not just our particular vacuum that did this.
It's a strange gripe to have, but there we are.
Pros
Lift away hand vacuum feature.
Brushroll shutoff for delicate flooring
Cons
Product is a bit unstable, it fell over a few times.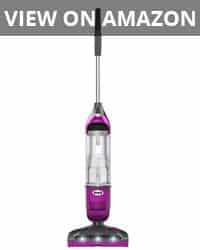 If you're looking for a vacuum that is light weight, simple and easy to use and ideal for small spaces this Shark Cordless Upright is a good choice.
At just 7.5lbs and with it's cordless design it's ideal for lugging up the stairs or into the guesthouse at the end of the garden. Other than it's easy to use function and light weight it features brushroll speeds for both carpet and hardwood flooring. It also features powerful LED headlights which make cleaning under furniture (and finding 10,000 lost cat toys) simple and easy.
There is a cost to this convenience though, being cordless means it's powered by a battery. This battery is very small and only really lets you clean 2 rooms at a time before it needs to be recharged.
Another downside is this really wasn't pet friendly, the vacuum was quickly clogged with pet hair and doesn't feature a HEPA filter.
Pros
Two speed brushroll for carpet and hardwood floor
LED headlights for finding dirt in dark spaces
Cordless
Cons
Clogged easily with pet hair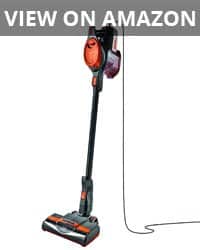 If you're looking for a vacuum for your small house, apartment, garage or just for odd jobs around the house this Vacuum is perfect.
It's designed to be mainly used as a hand vacuum in tight spaces and actually comes with a car detailing tool set with the vacuum cleaner.
The model itself is corded, very powerful, light and everything you need in a smaller hand held vacuum.
The one problem with the model I would note is you can't just shut it off and stand the model up which can be annoying… But does include a wall mount for storage.
This was my only issue with this particular stick vacuum cleaner. If I had to pick one vacuum for my car and odd jobs around the house this would be.
Pros
Ultra light weight and portable
Ideal for apartments and odd jobs like car detailing
Very easy to control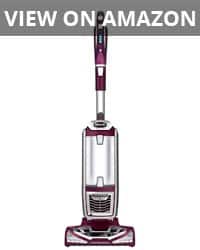 This is an excellent product and the OG of the Shark Vacuums range.
This Shark vacuum has a whole host of brilliant options including fingertip controls, LED lights and Dynamic Swivel steering which gives you everything you need to clean your home and beyond. This Vacuum also allows you to disconnect the canister and use the Vacuum as a hand held vacuum cleaner, or disconnect the hose from the main upright itself and clean under furniture and more.
What really sets this vacuum out from the rest is the ability of it when dealing with pet hair. This vacuum is very powerful with great brushroll action and rips pet hair out of furniture and carpet.
It also features HEPA filters and everything you need if you suffer from dust allergies too.
The only downside we found is the hinges on the dust cup are a bit weak, if you know this when emptying the canister and you're gentle you will be fine but some users reported that these broke and we can see how. They do seem a little weak.
Pros
Brilliant for pet hair
HEPA filtration and anti-allergen technology
Handheld vacuum option
Cons
Weakness in dust cup hinges seem to be common
Our Conclusion – The Shark Navigator Life-Away wins!
If you're in the market for a Shark Vacuum cleaner then you're going to want the best Shark Vacuum cleaner. Why spend money on inferior products?
Really what you're going to buy is going to depend on your needs and budget. Our stand out 3 picks from the regular models we reviewed are:
Best Choice – Shark Navigator Lift-Away Professional NV356E
This model featured everything you need and was a great balance of cost and performance.
Premium Pick – SharkNinja Shark DuoClean Powered Lift-Away (NV803)
This model was the best performing with super strong suction, but this comes at a cost. This is our "if money was no object" pick.
Budget Buy – SharkNinja Canister Upright Vacuum
This model is ideal for those looking for the cheapest option without buying something that's poor quality. With cleanable filters this model is not only coming in at a low cost, it has no maintenance costs at all.
Our other models make sense if you're looking for something quirky or specialist.
Frequently Asked Questions
How long are power leads on Shark Vacuums?
Generally most models had a power lead of at least 30 foot.
Do Shark warranty or guarantee their products?
All products reviewed had a guarantee on manufacturing defects of 1 year, some as high as 5 years. This depends on the model you pick.
Did you have any issues with the Robot Vacuum Cleaner scratching flooring?
Nope! We were aware of some robot cleaners having issues and tested this product on a wide range of flooring. At no point during our test did we experience any issues.
How easy are spare parts to find for Shark Vacuum Cleaners?
Most of the products on review today had spare parts available on amazon. Shark is a huge brand and widely used. Most vacuum repair businesses will stock Shark parts.
Why are battery powered vacuums so week compared to corded models?
I'm not an electrical engineer so I am probably not qualified to say, but it would make sense that the manufacturer dials back the power in their cordless models to prolong battery life.
Max is a 31 year old blogger from Worcester, UK. He has a masters in Computer Science and is currently running a marketing agency based in London. In his spare time he likes to review technology and out doors equipment. Read more about him.